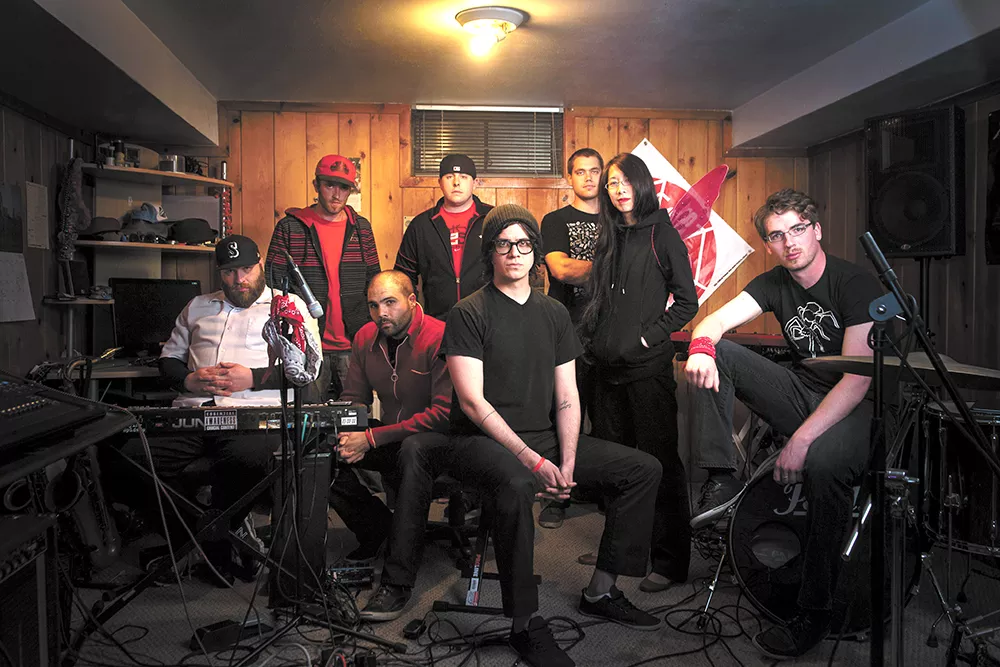 On New Year's Day, Flying Spiders gathered for dinner at Cameron "Sparky" LaPlante's home after a two-month break. It was a Wednesday, the day always reserved for band practice. But no music was made that night. Instead they sat in a circle in the living room, each voting on whether or not to stay together. The decision was unanimous: they would continue the hip-hop collective after losing frontman Isamu "Som" Jordan. They would not change their name.
"I know for a fact Som would have wanted this band to continue, because he told me. It was one of the last things I heard him say," says LaPlante, sitting in his living room with roommate/bandmate Michael "MJ" Janson last weekend. "But we had to all come to a decision on our own."
Jordan was not simply an MC; he was a journalist, poet, adjunct professor at Whitworth University, husband, father of two boys and champion of the Spokane music scene for years. He was found dead at 37 of an apparent suicide at his home last September. The news was a shock to the system for his family, friends and the musicians who considered him a brother and mentor.
Only a few weeks after Jordan's death, the band decided to forge ahead and play a Red Room Lounge show they had already booked in advance, with the proceeds going to Jordan's family. Janson, the group's beatboxer, and fellow rapper Andrew "Nobe" Hauan stepped up to fill in vocals as best they could. The set started off with a quasi-instrumental song — where Som's lyrics would have been, there was nothing. They didn't get through the song without shedding tears.
"I was lucky I only had to play three notes on my keyboard during that first song," recalls multi-instrumentalist LaPlante.
After the packed memorial service at the Bing Crosby Theater and a couple of fundraising events, the band collectively chose to go on hiatus at the end of October. Continuing was just too hard.
"I didn't want to do anything, I didn't want to hang out in my basement where we used to rehearse because that was the last place I saw him," says LaPlante, moving his fingers through his full beard.
Flying Spiders was always Jordan's organic hip-hop vision. He wrote lyrics and was the creative genius behind all of the songs, hearing everything in his head. Over its three years together, the eight-piece band expanded to include 10 members, sometimes 11, sometimes more. Now it's back at eight.
LaPlante, who teaches music at local elementary schools, recalls that he was brought on board to be the music leader, interpreting what Jordan heard in his head for the rest of the musicians. Jordan had been mentoring Janson since he was just 16. Janson jumped at the chance to join Flying Spiders years later.
"I dream about him all the time," says Janson, now 26. "When I write my lyrics, I hear his voice in my head. I remember Som would read each line and ask, 'OK, what does that mean?' Because when you ask that, you have your next line."
Right before Jordan died, the group was very close to having written enough new songs for an album. But the time still isn't right to unleash that unheard 2013 material. "Sometime in the future, just not now," LaPlante says.
Since the beginning of the year, the band has continued to meet every Wednesday, yet things obviously are different since "the apocalypse," as LaPlante refers to the time surrounding Jordan's death. Playing the songs Jordan wrote is too painful, so they've written new ones. Now the group is much more of a collaboration, with everyone writing their own parts. They're free to make the music they want to.
"We don't have this control freak anymore," LaPlante says.
But Jordan is there in everything. The old-school, soulful beats are still there. The positive overtones, exploration of social ideals, cuss-free lyrics: those facets will never leave, either.
In newly penned lyrics from Janson and Hauan, they rap about Jordan's passing, how hard it is to continue. The line "It's hard to be free when the heart of you jumps up and leaves" says it all.
This Friday, Flying Spiders return to the Red Room stage with a set of seven fresh songs. After last week's rehearsal, band members are confident they're ready to return to performing. They know there are probably some naysayers out there who think they shouldn't go on making music as a band. But the two agree; if people don't want to hear them, they don't have to.
"We are Flying Spiders, and we had a lot of momentum in the trajectory we were on before," LaPlante says. "To think about Spokane not having Flying Spiders is not right. If there's a hip-hop scene, it needs a band, and Flying Spiders is that band and will continue to be that." ♦
Flying Spiders feat. Real Life Rockaz, Smiles Davis and the Paper Cutout Crew • Fri, May 16, at 9 pm • $5 • All-ages • Red Room Lounge • 521 W. Sprague • 838-7613