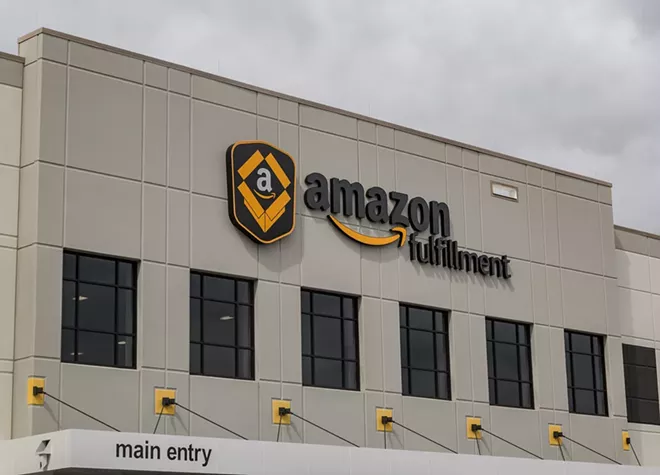 Y
eah, thinking that Amazon would
locate its second headquarters in Spokane was always pretty
absurd
.
But an Amazon fulfillment center? Now that
made
a lot more sense.
Today, after everyone had pretty much concluded that the mysterious Project Rose was an Amazon warehouse, Greater Spokane Inc. (GSI) officially announced that, yes, Spokane County would be getting the next Amazon customer fulfillment center.
"The [600,000-square-foot] distribution facility, an 80-acre project, will house merchandise to be packaged and shipped for customer orders," the GSI press release announced.
"Everybody I have talked to has longed for this day to come," says County Commissioner Al French, who represents the West Plains, where the warehouse will be based. "And now it's here."
But what exactly does that mean for Spokane?
It means a massive influx of jobs
Put this in perspective: The city of Spokane, as a governmental agency, has a little over 2,000 employees. Spokane County has a little under 2,000 employees. Fairchild Air Force Base employs about 6,000, says GSI CEO Todd Mielke.
The Amazon center will launch with 1,500 and then eventually ramp up to 3,000 during the busiest season. In other words, at its peak, the Amazon warehouse will employ about half the number of people as the Fairchild Airforce Base.
When Kaiser Mead smelter closed in 2000, a little over 1,000 jobs were lost. Think about an increase nearly three times the size.
It could help Spokane County recruit even more companies
"What it does it for us as a community as you're coming into Spokane from the west and you pass Caterpillar from the right and Amazon on the left? Two Fortune 200 companies." French says. "It sends the message that we're open for business."
And that message could be crucial as the Spokane region tries to attract other businesses. It gets their attention.
While people scoffed at Spokane's bid for the Amazon headquarters, Mielke says it may have played a key roll at putting Spokane more on the company's radar.
And now, the fulfillment center represents another opportunity, he suggests.
It allows Spokane to show Amazon what we can do. And so if there Amazon is looking to expand or relocate part of its business again, Mielke says, they'll look to Spokane if we make a good impressions.
"They're more likely to go to communities where they had a good experience," Mielke says.
Then there are all the other companies that could be attracted as well.
"Just like how Costco is a magnet for retail space, I think the same thing is true for Amazon," Mielke says. "Who are their suppliers to operate their fulfillment center. Is there an opportunity to reach out to those companies?"
There will be ripples — even waves — on the regional economy
"This is new money coming into the community," French says. This isn't, like, a restaurant launching that will need to compete with all the others. "Hundreds of millions in new payroll coming into this community on an annual basis."
Think about all the companies, French says, that will be needed to support these workers. Grocery stores. Car dealerships.
A recycling business might want to be located next to a company with a lot of packaging waste, Mielke says, or it might be advantageous for a company that relies heavily on Amazon to be located close to a fulfillment center.
It's proof the West Plains PDA can work wonders
A
dream team
composed of some of the most hard-charging officials in the city of Spokane, Spokane County and Spokane International Airport, the West Plains Public Development Authority (PDA) formed last year in order to lay out a runway for economic development.
For decades, Spokane County's ambitions to attract business have been constrained by the lack of a port district, an agency tasked with dangling incentives and building infrastructure to attract businesses. But the West Plains PDA was intended to be able to do much of the same thing, slicing through bureaucracy and coordinating multiple municipalities, in order to build the right infrastructure in the right place. And fast.
"We've now got an engine to help drive economic development," French says. "Amazon, when I was working with them, they were amazed about how quickly we would respond to get them into construction. In seven months, they're moving dirt. And they'll be open next year."
And that, French says, is just the start.
<!———————StartFragment———————>"This is the first of four companies in the queue," French says. "There are three other companies we're working with nationally. "
The tight housing market may get even tighter
Apartment vacancy rates in the Spokane County is hovering around only 1 percent. Housing inventory is the lowest it's been in a decade.
So what do 1,500 new jobs mean for that market?
"With new jobs comes a demand for housing," French says. "We're having conversations with the city and the county and Medical Lake and Airway Heights and Cheney, for how do we accommodate the housing demand for the community."
And not just that. There might be impact on traffic or the school systems.
"We can do whatever it is we need to do to respond," French says.
Problems created by too many jobs are generally good problems to have, he suggests.
The jobs themselves might not necessarily be ideal
But the influx of jobs doesn't necessarily mean the employees are going to be rich.
"In the U.S., the average hourly wage for a full-time associate in our fulfillment centers, including cash, stock, and incentive bonuses, is over $15/hour before overtime," Amazon
told CNN
for a recent story on the sharp distinction between the well-paid technical workers and comparatively
poorly paid warehouse and grocery store
workers.
The benefits are decent though, according to the
Spokane Journal of Business:


Benefits will include health care coverage, a 401(k) retirement plan, company stock, and maternity and parental leave. The company also offers its Career Choice education program that will prepay up to 95 percent of tuition for courses related to in-demand fields regardless of whether the skills are relevant to a career at Amazon.
But other reporting suggests that the jobs at the Amazon fulfillment center aren't particularly... well, fulfilling. One former U.K. Amazon employee, in his book
Hired: Six Months Undercover in Low-Wage Britain
tells tales of workers peeing in bottles for fear of
missing productivity targets
.
And while Amazon pushed back against those claims,
Seattle Times
reporting recently suggests
that the intense productivity metrics that Amazon warehouses employ definitely had some negative consequences.
"We are allowed to go (to the bathroom)," one worker in the Kent Warehouse told the
Times
, even with Amazon P.R. right there. "But you can't stay for that long." Four or five minutes is OK — "six minutes tops."
Longer than that? Your tasks-per-hour rating starts to drop. Computers intensely monitor each employees metrics — and ranks them compared to other employees. One employee told the
Seattle Times
that she came to work, despite being sick. She was worried that if she stayed home she'd be fired.
And yes, employees had to enter and exit through metal detectors every day to prevent theft.
Asked if reports of Amazon working conditions should temper our enthusiasm at all, French wasn't concerned.
"You know, if you have a job, you can be critical," French says. "If you don't have a job, God bless you... If you don't like the working conditions, don't apply."
French notes that some people focusing on working conditions may have other motivations, like unions organizers who want to unionize Amazon workers
.
Overall, it's clearly a good thing for the community, he says.
"These are jobs that are going to make it so the 1,500 people in my community are going to have an opportunity to have a paycheck," French says.