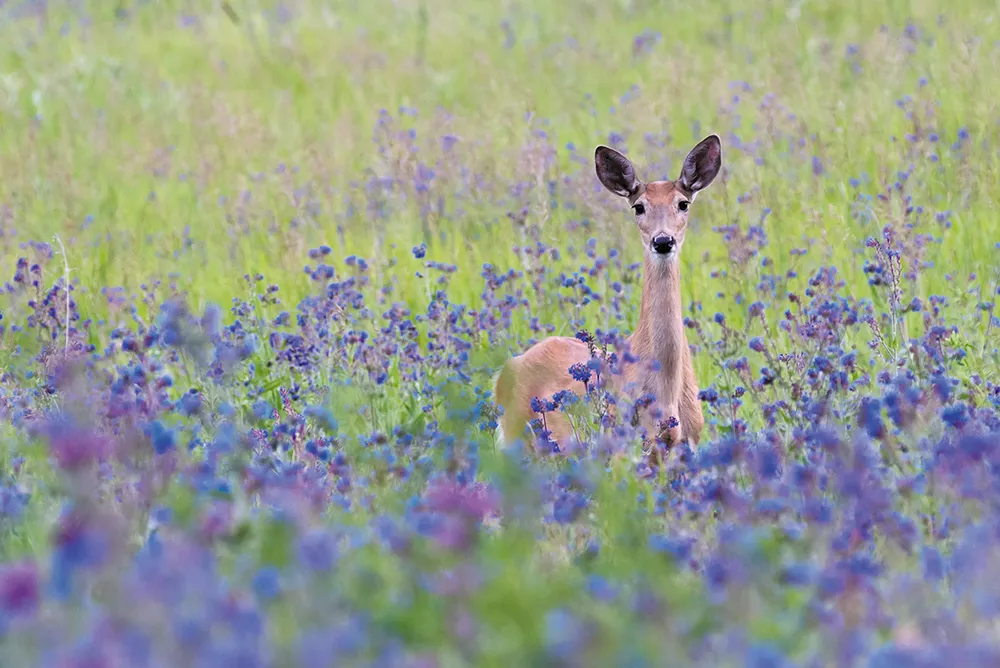 Some animals, in the near-nature-near-perfect paradise of the Spokane region, are easy to find. They practically come to you. But with others, it takes a little work, a little patience, or a dose of good timing.
Here's a quick guide for wildlife spotters of all skill levels:
NEWBIE LEVEL
Marmots (Spring-Summer)
Practically the Spokane mascot. Marmots are one of the easiest creatures to find, even in the middle of the city. Anywhere the big rocks run along the river, expect marmots to be popping their heads up, Whac-A-Mole style.
Two places make for easy marmot sighting territory. One is Kendall Yards, right by the Inlander office. There's a wide dirt lot full of piles of rubble. Marmots love it. Listen for their distinctive warning-cry whistle. But even better is Redband Park, formerly known as Glover Field. Even from across the river you can see the green grass littered with little marmots.
Osprey (Spring-Summer)
The great thing about searching for osprey: It's never difficult to find their home address. Just look for the giant osprey nest on the top of a pole. The Centennial Trail in Kendall Yards is an easy place to start. Even better, perhaps, is Riverfront Park, where a family of osprey have made their nest on the very top of the U.S. Pavilion. If you're lucky, you might even get a close-up of the osprey hanging out on the branch on the north bank.
Otherwise, the Trail of the Coeur d'Alenes in Hayden, Idaho, is a great place to spot osprey — and some bonus blue heron sightings if you're lucky.
EXPERIENCED LEVEL
Beavers (All year, though they're less active in winter)
A colony of beavers has taken up residence in Riverfront Park. Stand on the North Bank across the pavilion and you can spot the beaver den. Then, it takes a lot of patience. Sometimes you'll be standing there for an hour or two. But then, nearly every time, you'll see a sleek brown rodent gliding through the river.
You might also have luck near the High Bridge Disc Golf Course downtown or near the No-Li Brewhouse. Beavers are generally nocturnal, so your best bet for seeing them clearly is at dawn or dusk.
Deer (All year)
Deer are easiest to spot inches away from your windshield when you're driving home on rural roads late at night. Otherwise, the Little Spokane Natural Area Preserve is a fairly reliable location to spot packs of deer bounding nearby.
You can see deer all year, but if you're looking for impressive antler displays, you'll want to wait until the winter months.
Bald Eagles (Early December)
Spotting Bald Eagles isn't difficult. It's just a matter of timing. In earlier December, drive out to Coeur d'Alene Lake. The area around Higgens Point and Wolf Lodge Bay are absolutely brimming with hundreds of bald eagles, diving and catching fish in their talons. If you want to, you can even see the eagles from the comfort of a Coeur d'Alene cruise boat.
Mountain Goats (Summer)
Two words: Scotchman Peak.
The highest point in the Lake Pend Oreille area, the Scotchman Peak Wilderness Area has a reputation for being positively brimming with goats. There are so many goats that the Friends of Scotchman Peaks Wilderness actually send out ambassadors to hike the trail and warn hikers to keep their distance from them.
It's a bit of a drive and a bit of a hike, but there's no better place to spot a wild goat than Scotchman Peak.
Coyotes (Spring-Summer)
Among the most adaptable animals, one of the most reliable places to see a coyote is at the Turnbull Wildlife Refuge near Eastern Washington University. As a bonus, you're likely to see hundreds of geese, swans and other aviary wildlife.
EXPERT LEVEL
Moose, Bear, Bobcats and Elk (Year round)
Spokane-based wildlife photographer Craig Goodwin won't reveal the specific spots for spotting some of the larger, and more dangerous, animals in the region. He doesn't want a flood of Annual Manual readers flocking to his secret location. But he has a few tips. Go out early in the morning. Use a kayak — you're more likely to see animals on the water than if you're on the road.
And the biggest tip is simply to spend a ton of time out hiking.
"A lot of times you go out and you don't see anything," Goodwin says. "And that's fine."
But if you're lucky? Goodwin describes one time he was up at Priest Lake:
"I was up there at sunset. Down at the meadow below me is the black bear walking around," Goodwin says. "A lot of time wildlife is there and we miss it."