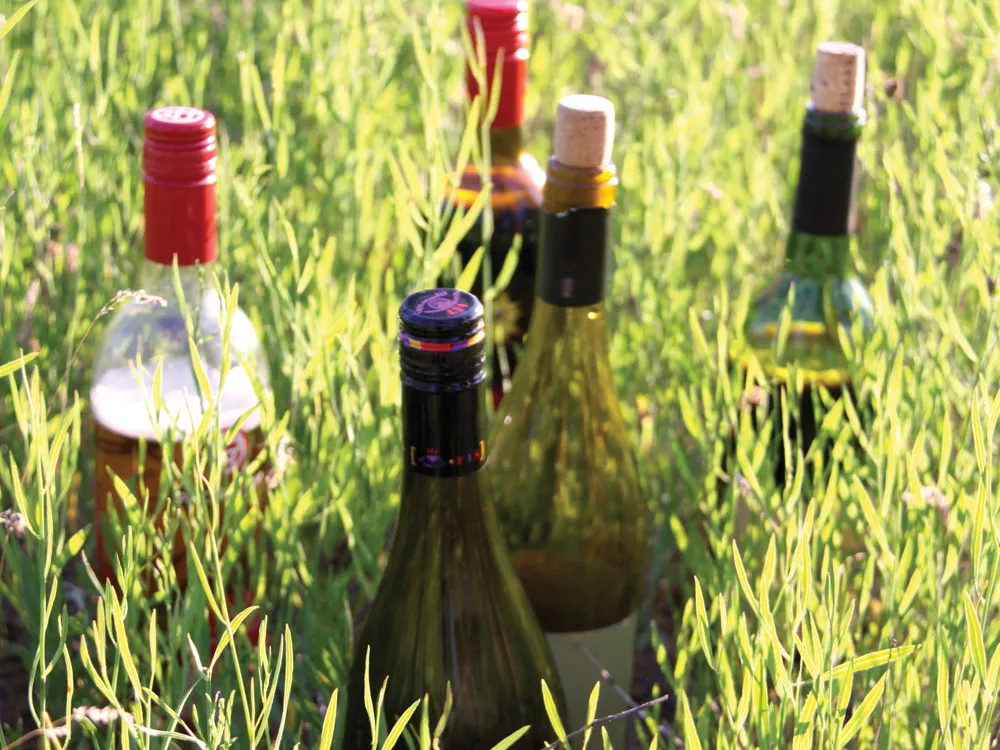 Tight times call for frugal drinking. But abstain entirely? Let's not get crazy. Switch to Franzia? Carlo Rossi? Yellow Tail?
Sure, if you're a resilient 21-year-old who can handle hangovers from boxed wines. Or don't mind drinking merlot out of a jug. Or are the parents of the bride and need to sate 300 guests without breaking the bank.
For the rest of us? We want wine. We want it for 10 bucks. And we want it to be delicious. Luckily, local purveyors oblige.
2007 Iris Pinot Gris
Left Bank's laid-back owner Joel Gott describes this stainless steel fermented white as "a nice boat wine" — not too big, not too heavy, goes well with food, but doesn't need it.
The first thing we noticed about this easy summer drinker was its lush perfume. If someone handed you a basket overflowing with orange blossoms, jasmine, ripe figs, juicy pears and said, "Here, put your face in this," that's the aroma you'd get wafting from this bottle.
Typical Pinot Gris tend to be light, crisp and sweet, but the Iris follows through with a tropical spine that's surprisingly robust ("There's a lot of acid," notes Gott).
With its rich, full body and clean, citrus finish, Iris makes our budget and hits the taste bull's eye.

From: Willamette Valley • At: Left Bank Wine Bar (108 N. Washington) • For: $10
2008 Fruit Bomb Red Table Wine
Cabernet Sauvignon, Merlot, Syrah, Malbec and Cabernet Franc. KAPOW! It's all crammed into this berry-licious blend; the juicy notes just waiting to explode all over your senses with the twisting of the screw cap.
"[The name] totally embodies what the wine is about," says French Quarter's part-owner DeVerne Augustus. "It's a jammy, fruity, drinkable wine."
Spicy and supple with hints of vanilla, this sexy little number bursts with flavor. We suggest opening it around the campfire and pairing it with S'mores.
"When I think of this wine, I think of four or five girlfriends sitting around having a bottle," says Augustus, whose motto is, "Like it, drink it, hate it, spit it."
$10 for a Walla Walla blend? Sold.
From: Walla Walla At: The French Quarter (1311 W. Sprague Ave.) • For: $10
2009 Mirth Chardonnay
"Mirth" means happiness, which is what you'll be feeling when you savor this wine and recall how little you paid for it.
Northwest-Wine.com calls this bottle a "big, juicy, hot weather chardonnay," and the LA Time's feared restaurant critic S. Irene Virbila even called it "a rare commodity — a moderately priced chardonnay that drinks beautifully."
"It's so delicious," raves Huckleberry's wine steward Drew Smith. "It's a perfectly made chardonnay, and we've done really, really well with it."
Mirth Chardonnay isn't too woody or buttery (not an "oak monster," as Smith puts it). Rather, it's balanced and easy to pair food with. Smith recommends Brie cheese, toasted almonds and pears.
"It's something you can just poor into a glass, head outside, and enjoy in the sun," he says. "It's a good porch pounder."
From: Columbia Valley • At: Huckleberry's (926 S. Monroe) For: $9
2006 Crane Lake Malbec
Rocket owners Jeff and Julia Postlewait are all about bringing you the good stuff — for dirt-cheap.
"Everybody's charging so much that we wanted to be affordable and accessible to people," says Jeff Postlewait. "We want to make it so people don't feel intimidated by it."
Crane Lake's California Malbec was the cheapest thing we could find that didn't taste like crap. It's got an earthy, almost leathery nose, a dark fruity body, and a fun, peppery finish.
Boom. That's a lot of flavor for $4.99. So go ahead, live large and bring three bottles to the neighbors' BBQ instead of one.
P.S., Valley dwellers: The Postlewaits also own a wine store called Bottles on 3319 N. Argonne Rd. You needn't drive downtown.
"It's a mass-market item, so we have a little bit of an issue with that, but we're not pretentious about it," says Postelwait. "If it's a great wine, and the price is right, we jump all over it. That's our mojo."
Amen. Pinkies down.
From: Napa and Sonoma, Calif • At: Rocket Market (1st and Cedar) • For: $5
2007 Pacific Rim Dry Riesling
We gave Huckleberry's wine steward Drew Smith search criteria consisting of "cheap," "summer" and "preferably local."
He returned a phone call later with Pacific Rim's stainless steel fermented Dry Riesling (not to be confused with their sweet riesling).
We know — riesling gets written off as the libation of choice for elderly ladies and 14-year-old girls.
But this is an unfortunate cliché, one that's tainted the name of what is actually a noble and complex German varietal. You're going to be pleasantly surprised by this bottle's fresh, tangy cross between white peach and lime.
"It's exceptionally well-made. People are thinking a riesling is sweet — sippingly sweet; that it's not gonna go with a lot of things," says Smith. "This dry riesling goes great with just about anything you can throw at it."
Grilled fish, shrimp scampi and squash soup are just a handful of the items Smith recommends partnering with this crisp sip, whose makers at Pacific Rim are self-described "riesling zealots."
From: Columbia Valley • At: Huckleberry's • For: $9.69