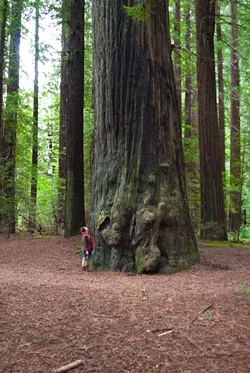 Summertime is tour time for many local bands, and we're asking bands to send thoughts from the road to us here at The Inlander to post for all to read. We like hearing how our local bands fare in other cities, or that they miss Spokane and can't wait to get back. Or that they hate it and want to stay away forever.
Mon Cheri just rolled back to town after a West Coast tour that took them to Seattle, Portland, San Francisco and L.A., among other cities. Here's singer/guitarist Patrick McHenry's thoughts from the road. Plus, a video of some of the fun stuff they did on tour.
(Bands on the road can send photos and thoughts from the road to me, at leahs@inlander.com).
"Overall [our tour] went very well. As a band we were very functional. Our sets were tight and cutting. We did very well selling things and maintaining band morale with occasions of frustration and moral [sic] dropping slightly..."---

(but that's something that is foreseen and bound to happen in any band on the road). We didn't kill each other :) . We left in a RAV4 and a trailer. Sometimes having a trailer was a pain in the butt (like in San Francisco) and sometimes it was a God-send. We used it as another room sometimes to change into different clothes. We had the good fortune of having a fifth person come with us, Benjamin Jorgens, who was our door guy/roadie/merch-man/sound-man/commiserate the entire trip. That was a very smart thing to bring him I think. We left Spokane with about $1k in the bank which is another thing I highly recommend because there is just no way to make money from a door or merch to get you from point A to B. We went all the way down to LA, looooootttsss of driving down and back. We had the chance to do some sight seeing. We made it thru the Redwood forest which was probably my favorite part of the drive. The trees there are so enormous it makes you feel very small and humble. Like "Man, what's the point of playing my songs when there are already things in the world THIS big!?" It's a somewhat depressing realization. Everyone we stayed with were very accommodating and nice. Those individuals really helped our band morale.

The best in my opinion was Seattle and Portland. For multiple reasons. Those were the 2 markets we have the most fans/friends besides Spokx. So all the shows in those cities were great. The High Dive in Seattle and the Alberta St Pub and Ash St Saloon in PDX. Good sound and positive staff at each. However, one thing we did not get is a lot of money from doors even though there were lots of people in each city at each show. Most high profile gigs at cool venues make you no money, but at the same time playing private parties and weddings are very profitable for musicians... so there is this interesting dynamic there that I'm thinking about exploring more in future blogs. I dug the shit out of Hollywood. I could see myself being a musician down there :)

Seattle, Portland, and LA have similar scenes I think. Lots of singer songwriters all pining for ink in the local weeklies and bands trying to scrape by, local venues popping up out of coffee shops everywhere. Katharine McPhee of American Idol watched us play in Sherman Oaks so that was pretty awesome. She told our drummer "Good Set" but we didn't find out it was her until the promoter told us. Pretty cool huh? I think I would like LA but it would be really hard to be a working musician there because of the over saturation of the scene.

Sacramento and SF were the wild cards. Bands are cumbersome and silly in SF proper. DJs do much better and are much more mobile in that city. Sacramento has this interesting jazzy feel to it where I think they appreciate more laid back styles and the venues are more low key and everything is a bit more spread out. If we were to ever play in the Bay Area again we would have to play in the East Bay where it's more accessible to I-5."

Mon Cheri's homecoming show will be on Monday, June 21 at 8:30 pm at Zola. Free. 21