click to enlarge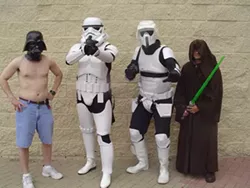 You probably have no idea who the hell the Black Taxis are. But they're big in Portugal. Germany. And they're from a big ol' ranch out in Elk, Wash. They'll rock the shit out of the Sunset Junction tonight. Check out our story on them here. 21 . 9 pm. $5.
Headbangers will be having a ball tonight at the Seaside, where locals Reinkaos, 13 Mag, Bestige and the Boxcutters (a hip-hop group, and the odd man out here) will duke it out for a chance to open for Chimaira in July. The battle begins tonight at 9 pm. $5. 21.
They've moved on to bigger things: The last time Cage the Elephant played Spokane, they performed on the tiny Seaside stage. This time, they're playing the Knitting Factory. You've heard their song "Ain't No Rest for the Wicked" on the radio and on TV — now hear it tonight at the Knit. 8 pm. $15. All-ages.
It's all bindis, henna, Squishees and finger cymbals tomorrow at the Seaside during the Bollywood Dance Party. It's a benefit for Something Worth Doing, a nonprofit that helps put teachers in small villages in India. 9 pm. Free. 21 .
Geeks unite tomorrow night at the Arena for Star Wars in Concert! Hear the original John Williams score and, hopefully, see lots of fans in Stormtrooper and Wookie costumes. $35-$65. All-ages. 2 pm and 7 pm. Read our story about it here.

She's baa-aaack. Yes, Kaylee Cole is back, fresh off the Sasquatch stage, to play the Empyrean tomorrow night with Jack Wilson and Seattle folk-pop group, the Head and the Heart. Read our story on the Head and the Heart here. 7 pm. All-ages.