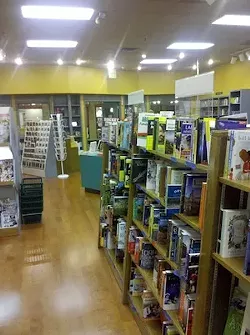 The powers that be at Auntie's Bookstore will throw the doors of their new location (in the skywalk of Riverpark Square in the old Children's Corner Books and Toys location) wide open on Friday. But for now, they're just sort of cracked opened for their "soft opening." We wandered by the new location this afternoon to check it out. Right now it's a sparser version of the big store down the street, and not everything's ready for business just yet (there were pieces of tape tagging the genres on some shelves). But by Friday, we're sure everything will be sparkling and ready to go.
All day on Friday (Aug. 13) customers get 20 percent off their purchases. Patrick McManus (The Double-Jack Murders) signs books on Saturday (Aug. 14) at 2 pm, and Jess Walter (The Financial Lives of Poets, Citizen Vince) signs at 4 pm.
You can go sniff around now, but if you're like us, you're waiting until Friday to get that sweet 20 percent off.