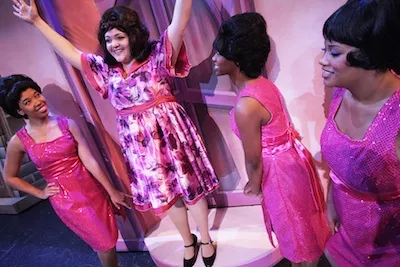 Poof up your bouffant at Coeur d'Alene's Hairspray Performances of the kitsch hit run this weekend in Boswell Hall on the North Idaho College campus: Thursday-Saturday at 7:30 pm and Sunday at 2 pm. Tickets top out at $39 (plus tax). Hairspray closes on Aug. 21. Event Info
Here are seven reasons to go check this out:
1. In the opening number, "Good Morning, Baltimore," watch for what the advancing chorus does to the wino. And whoever's standing in the wings and driving the remote-control rat has serious Formula One driving skills.
2. The allusions to Chicago's "Cell Block Tango" in the second-act opener, "The Big Dollhouse." (Everybody's in jail. Roger Welch's Edna Turnblad flexes his/her muscles at song's end.)
3. In the title tune, hysterical bobby-soxers clinging to a heartthrob's ankles.
4. Krista Kubicek's "crab move" during her Velma Von Tussle's recollection of her glory days in "(The Legend of) Miss Baltimore Crabs." (Later, when she's atop a kind of parade float, a wailing Kubicek gets swirled offstage by chorus members, as if she's some kind of wicked, dying witch.)
5. When our heroine boldly decides to audition for The Corny Collins Show, Kasey Nusbickel's mousey delivery of Penny Pingleton's "I'll watch you audition
6. Jessica Ray's costume designs: a purple-sequined tux for Corny; elaborate hairspray capes with hoods; pastel tuxes and flared taffeta swing dresses for the chorus.
7. Tamara Schupman's butch P.E. teacher offering extra credit to any of the girls who'd like to take a shower today; Reed McColm's mix of humor and creepiness as Mr. Pinky, couturier of plus-sized girls, when he contemplates getting his hands on Edna's 54EEE bosoms.
Irritable dwarves, a witch on a diet and magic-resistant mice: They're all in The Four Princes, Spokane Civic Theatre's summer show, which plays on Thursdays-Fridays, Aug. 12-13 and Aug. 19-20, at 7 pm at 1020 N. Howard St. The Four Princes has been written and directed by Jean Hardie, who recently won the Civic's Lifetime Achievement Award and who will probably herd her student actors through a little sarcastic undercutting of the usual fairy-tale idealism. Event Info

Meanwhile, CdA Summer Theatre has also announced three-quarters of its 2011 season: The Sound of Music, A Little Night Music and The Wizard of Oz.
The hills have been alive recently in Spokane (in 2003 at what was then the Opera House, and in 2007 at the Civic), but it's always tuneful and fun watching Maria and a bunch of little kids outwit those stupid Nazis.
Oz is a big deal because the rights have been hard to acquire and because of production requirements. (All that yellow paint, all those short people.)
The 1973 Sondheim musical is based on Ingmar Bergman's 1955 Swedish comic film, Smiles of a Summer Night (which was also the basis for Woody Allen's A Midsummer Night's Sex Comedy). It's full of ripe-for-correction lovers: the arrogant husband, the virginal wife, the repressed but horny young man, the down-on-her-luck but joyfully adulterous actress, and so on. (And it has Sondheim's only hit song, "Send in the Clowns.")
As always, for even more theater talk, visit stagethrust.blogspot.com.