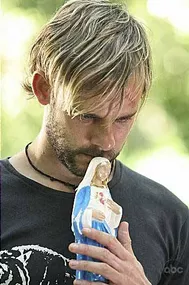 Back when I was a reckless Whitworth University undergrad, I used to sit in Whitworth's Weyerhaeuser Hall, Room 111, and, while I should have been listening to the professor lecture, I would read reviews on my laptop of the ever-more-intriguing ABC drama Lost.
Ah, but how the tables have turned!
Today, from 3:15 pm-5 pm, in Whitworth's Weyerhaeuser Hall, Room 111, I'll be discussing on the ABC drama Lost, where, presumably, apathetic students will be secretly reading on their laptops about Aristotle's influence on communication ethics instead of listening to me.

It's all part of Gonzaga's Faith, Film and Philosophy series. I'll join Gonzaga professors Dave Calhoun and Michael Collender and Whitworth Professor Fred Johnson to discuss the topic of "Religious Themes and the Human Prospect in Lost." Then, we'll field questions from the audience. ("Did the polar bear, like, represent King Herod? And do you think Neo was Jesus?")
The whole community is invited. Even Glee fans.