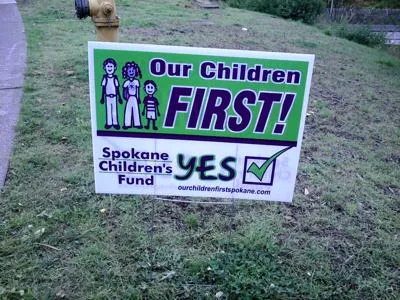 I'm all for the childrens — your childrens, my childrens, anybody's childrens. And yes, we should vote to
create a fund to combat dropout rates
(at the bottom). But mayhap we could get the signage right?
Look closely at the sign in the picture. Know what's missing? A verb.
I didn't grow up 'round here so perhaps there are different rules, but according to School House Rock, "A verb tells it like it is./Verb: That's what happenin'." As far as I can tell, "Our Children First" does not have a verb.*
We could put our children first. We could consider our children first. Heck, were we cannibalistically minded, we could even eat our children first. This sign, however, does not tell us which of those actions to perform.
Again, all about the childrens. I just want to know what we should do with them first.
* Italicizing or putting a word in all caps does not make it a verb.
Got a weird photo from around town? Send it to joels[at]inlander[dot]com, along with your name and when, where and what the hell is going on in the picture. (The Inlander reserves the right to re-publish submitted photos on the web or in the newspaper.)