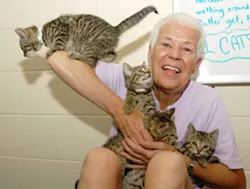 Cats for sale!
The Spokane County Regional Animal Protection Service is offering cats for only $15 through Saturday (down from the usual $60 fee) after taking in an unexpected number of them this week. (SR)
Third time's a charm Jurors in Coeur d'Alene convicted Frank and William Tankovich of racially harassing a man last August. It was the brothers' third trial in eight months. (SR)
Bodies left for days Police in Post Falls are investigating an apparent murder-suicide inside a rental home, where they say the bodies have been decomposing for the last eight to ten days. (KREM)
Haunted city KXLY rolls out its seasonal superstition with a story on Spokane's spookiest places, including the Davenport and the thousand steps.
Suspicious devices on planes Planes in Newark, Philadelphia and the U.K. are being examined after a toner cartridge with wires and powder was found in a cargo plane in the U.K. In New York, police responded to reports of a possible explosive in a UPS truck at the Queensboro bridge. (Seattle Times)