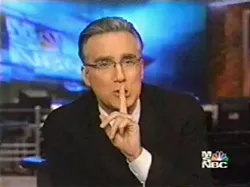 We're all adults here. We know that MSNBC
Countdown
host Keith Olbermann has certain beliefs, and a certain tendency to espouse those beliefs. Perhaps, some have speculated, he may even support certain candidates over other candidates. There are times when, perchance, he may use his national opinion show to push an agenda that aligns with a certain party over another party.
MSNBC is fine with all of it. Opinionated pundits are allowed to express opinions.
But MSNBC was not fine with Olbermann donating money to candidates. After all, theoretically, candidates could use the money from Olbermann's donations to buy commercials, where views very similar to Olbermann's would be broadcast on national TV.
So today, a few days after election day, Olbermann has been suspended for donating money to candidates. Or rather, for not getting prior approval to do so.

From MSNBC:
"Anyone working for NBC News who takes part in civic or other outside activities may find that these activities jeopardize his or her standing as an impartial journalist because they may create the appearance of a conflict of interest," the NBC News policy reads. "Such activities may include participation in or contributions to political campaigns or groups that espouse controversial positions. You should report any such potential conflicts in advance to, and obtain prior approval of, the president of NBC News or his designee."
Olbermann, of course, never claimed to be an "impartial journalist" but NBC News' policy doesn't differentiate between News anchors and opinion show hosts. A couple interesting parts of the story:
1) A swarm of conservative pundits, like the Weekly Standard's Bill Kristol and National Review's Jonah Goldberg took a break from bashing Olbermann to defend him (backhandedly, of course), basically saying, yeah, Olbermann violated the policy. But it's a stupid policy. Both Kristol and Goldberg, of course, have been labeled the "Worst Person in the World" by Olbermann in the past.
2) Olbermann had recently been lightening up his rhetoric. After the Jon Stewart's Rally to Restore Sanity, Olbermann promised he'd get rid of his semi-satirical Worst Person in the World rant.
3) Conservative MSNBC host Joe Scarborough didn't get in trouble when he made a donation in 2006. (But NBC says Scarborough asked for permission.) Back then, as the liberal blog Daily Kos points out NBC said "Joe hosts an opinion program and is not a news reporter."
Check out New York Times reporter Brian Stelter's Twitter page for more tidbits.