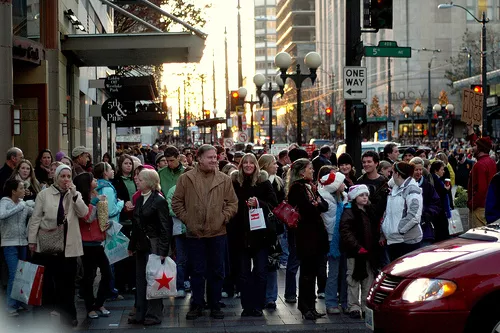 As the rest of the media's no doubt bludgeoned into your head by now, today is Black Friday — so named because it's the collective death of our childlike innocence regarding the holidays* (usually when somebody gets trampled by other people trying to get a cheap TV).
Here at Inlander HQ, we're feeling extraordinarily benevolent. That's why, just for today, we're going to be giving away copies of our paper for free. You're welcome.
But some of you ingrates might want more than a free copy of a free newspaper — and not all of us were willing to jostle for position in order to save $10 at 5 am. So I've compiled this list of deals for nerds, including both online and physical locations.
Apple — For only the third time in four years (they make enough money without having to resort to sales), the online Apple store is making small reductions in prices. You can get $101 off MacBooks Pro and Air, or an iMac. iPads are $41 off, and there are various small deals on iPods and accessories as well. You can also take advantages of these deals at the physical Apple Store in River Park Square — though, be forewarned, when I walked in there with a Linux shirt they laughed at me and pelted me with surplus Zunes until I ran away crying left.**
Strong Solutions — The local independent Apple reseller has a few tricks up its own sleeve. iPads are on sale for $30 off, and MacBook Airs are discounted by $50. They're also giving away an Apple TV with the purchase of a MacBook Pro.
Amazon — This is finally going to be the big year for eReaders (unlike every year since 2007, when the same thing was also said), and Amazon's slashing prices with gusto. Today only, you can get a previous-generation Kindle*** for only $89, which is cheap enough that you can just buy one for every book you want to read, then throw it away. They've also got some sweet deals on electronics in general, including new games like Fallout: New Vegas for $35, or Flip cameras for $50 off. Hurry, though — some of the deals are time-sensitive.
Merlyn's — Because there's more to nerds than gadgets! Merlyn's isn't having any BF specials, but they would like to remind you they have 10 percent off all the time.
Best Buy — In addition to decent-to-middling MP3 players are on sale (like the ZuneHD), with an average of about $40 knocked off the price. TVs are always the big-ticket items on BF, and they've got some Samsungs and Sonys for pretty decent prices ($330 for a 720p 32-incher, $500 for a 1080p 40-incher).
WalMart — Unsurprisingly, the king of slashing prices is setting records. They finally broke the sub-$500 barrier for 50" TVs (though note that it's a plasma, and you shouldn't ever buy a plasma TV unless you know what you're doing). In-store, Wal-Mart's got a 32" Emerson (house brand) for $200, and various other TV and electronics deals.
(img h/t
J. McPherskesen
)
* Actually, it's theoretically because this is the day when retailers finally start making money; going "into the black." Though this etymology is
also disputed
.
** Figuratively.
*** Literally the only difference most people can notice between the current generation and previous generation is that the new one is graphite instead of white. (UPDATE: In the time it took me to write this post, they sold out. Da-yum.)