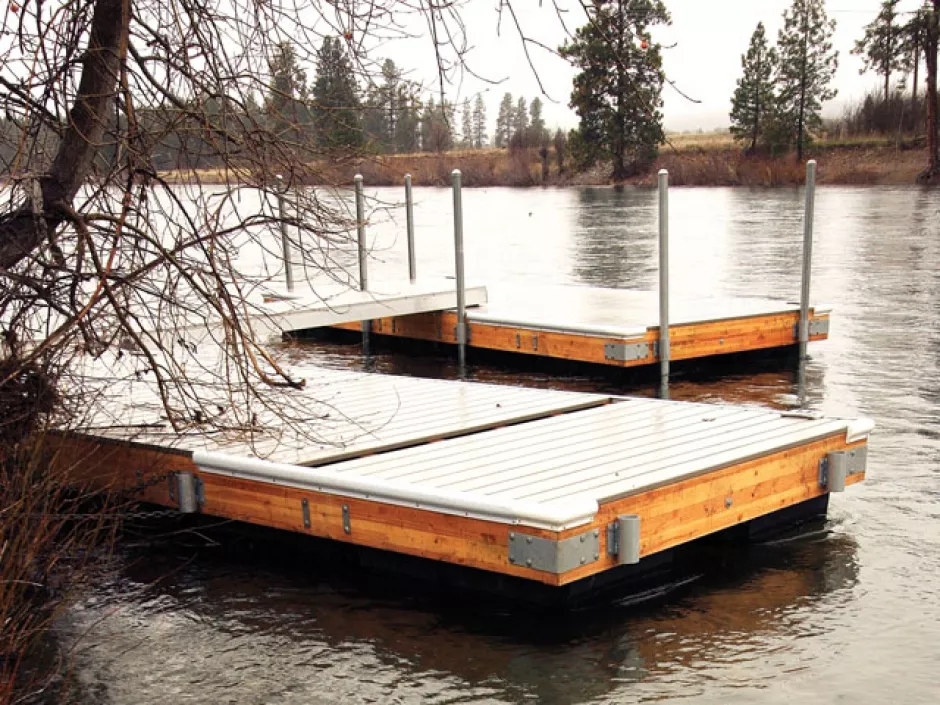 In 2005, Cliff Mort bought 30 riverfront parcels for
Coyote Rock Estates
, a development east of Argonne in the Valley. It was a good deal, as the value of each parcel where a dock was added was expected to double or triple.
That is, if the developer was allowed to build docks.
In April, the Inlander detailed the battle between Mort's Coyote Rock and environmental groups like the Center for Justice, Trout Unlimited, the Lands Council, and the Washington State Department of Ecology.

New docks had the environmental groups queasy. The darkness of a dock makes for attractive shade for both largemouth bass and redband trout. The problem: The non-native largemouth bass like to eat redband trout. Thirty new docks could very well cause some ecological problems, then-Riverkeeper Rick Eichstaedt worried.

But here was the tricky part: Coyote Rock didn't ask the City of Spokane Valley to approve 30 docks. They asked them to approve two. And, with only two docks, the environmental impact seemed minimal.
The Washington State Department of Ecology appealed the decision, claiming the construction of the docks violated the Spokane County Shoreline Master Program. While normally a residential dock that small would be exempt from the rules of the Shoreline Master Program, Eichstaedt says there are two arguments against granting that exception.
The first is that the dock isn't residential — it's commercial. It was built by a developer in order to sell a home. The developer would have to sell the property first, and only then could the residential owner apply for a permit to build a dock on that property, Eichstaedt argues. Also, he argues, the impact of all 30 proposed docks should be taken into account, not just the two that Coyote Rock submitted for review.

But in a Nov. 29 court decision (pdf), Judge Salvatore Cozza sided with the City of Spokane Valley in granting the permit to Coyote Rock.
Cozza rejected both arguments from the environmental groups.

"Clearly, the legislature intended certain kinds of docks to have minimal environmental impact. The only point of contention is that the applications were submitted by the developer (Coyote Rock) rather than a private homeowner," Cozza says. "In my opinion, this fact does not invalidate the exception. There is no evidence that Coyote Rock will use the docks for its own use."
In regards to concerns over cumulative impact, Cozza cites the case of Roberts v. May as precedent that possible future docks should not be considered. Future proposed docks would have to be considered when — and if — they're applied for

"We will seriously look at [appealing]," Eichstaedt says. He'll have to discuss the matter with Department of Ecology. "We think the judge is wrong."