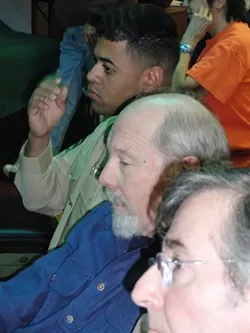 "I am often told, 'Thank you for your service,' when someone finds out I am a combat veteran from Vietnam. This disturbs me a great deal."
Rusty Nelson was one of the last to speak Wednesday at a veterans' affairs hearing in Spokane with U.S. Sen. Patty Murray. In simple, declarative sentences — delivered calmly and plainly — he wrenched the session into a larger framework.
For 90 minutes, many important topics regarding veterans had been introduced and discussed, either by a panel of local service providers or from the many veterans who packed Spokane's VFW Post 51 with a standing-room only crowd. Murray, recently named chair of the Senate Veterans' Affairs Committee, held her first listening post here and local veterans shot up a forest of raised hands when it came time for comment from the audience.
She was told how a volunteer Veterans Court is keeping vets who are struggling to re-integrate to "normal society" out of jail or prison. She was told how female soldiers struggling with MST — military sexual trauma — were quickly discharged under a finding of "personality disorder" that prevented them from getting help. She heard about homeless vets, and about the still-increasing rates of suicide among soldiers who have been deployed as many as eight times.
It was serious, sober business — a range of injustices committed upon people who answered the nation's call for service.
Rusty Nelson added his clear voice to the larger injustice: war itself.
"When I came home [from Vietnam] ... nobody spat on me or called me a baby-killer. They offered me jobs and shook my hand," he said. "Plus I got a couple of Bronze Stars and other stuff, too, so I don't need to be thanked for that. I was also paid more, during my year in Vietnam — considering inflation — than I have been since.
"I got these rewards for doing the ugliest things I've ever done in my life. I have spent the last 25 years of my life trying to work for peace and justice and I'm rarely thanked for that," Nelson said. "I think most of us who are veterans want to be — instead of being a little special-interest group — we want to be part of our society and part of our country. We want to see good things for everybody. And let's think where our problems as veterans came from — war is an institution that's broken and can't be fixed.
"We should be working, as military people and military veterans, to prevent war and get us out of the stupid wars we are in right now. I think the Veterans' Administration and Veterans' Affairs needs to be a part of that."
The room, crowded with men and women who have often seen the worst humanity can offer, applauded.