Bickering lawyers, bickering gods and mortals, bickering Jewish women — everyone's kvetching on Spokane stages lately. Two good productions continue at Interplayers and the Civic — and the Civic also has a mainstage opening.
At
the Civic
, the three
Sisters Rosensweig
— one distinguished, one flamboyant, one still finding herself — deal with their significant others and their sibling rivalries. Wendy Wasserstein wrote the play when she was in her early 40s — sadly, just a dozen years before her death. But Rosensweig, which reflects Wasserstein's own life, is at its best when it relays the worries and anxieties and
joie de vivre
of women of a certain age, ya know? April 8-23, Thurs-Sat 7:30 pm, Sun 2 pm (and see the photo, right)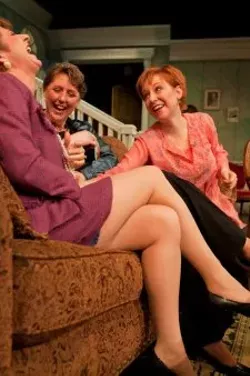 David Mamet's
Race
has profane language for a reason: It's about adults dealing with power struggles and deception and manipulation and rape. The
Interplayers
board apparently mostly opposed mounting such a controversial play. But maybe — given the fact that Race is selling tickets well — we ought to rethink the whole staying-away-from-controversy instinct. Foul-mouthed plays on hot-button topics may well offend elderly conservatives, but maybe NOT doing such plays — maybe sticking to a diet of nice, pleasant, inoffensive honky-tonk plays — has the effect of alienating younger, more liberal audiences. Be wary of large generalizations, but . . . is offending people actually the WORST thing a theater can do? Maybe it's time to jettison the Spokane-audiences-aren't-ready-for-that-argument. Wed-Sat 7:30 pm, with some weekend matinees at 2 pm; Interplayers, 174 S. Howard St. Closes April 16.
Read a review and watch a slide show preview
.
In its second space downstairs, the Civic is presenting
Metamorphoses
, the play with Greek gods splashing around in a swimming pool. The real payoff comes when the pool becomes a stormy sea, a torture device, a rejuvenating fountain. Thurs-Sat 7:30 pm, Sun 2 pm; closes April 16.
Read a preview
and
watch a slideshow
.
Tonight at Whitworth: Spokane's 2011 version of the NEA's Big Read presents, as part of month-long focus on Vietnam War-themed works, a readers-theater version of a play, A Piece of My Heart, about women who served as nurses in Southeast Asia; 7 pm in Weyerhaeuser Hall.