Spokane loves it's thrift stores. And, honestly, what's not to love? Great deals and cool finds that (generally) support good causes.
While there are oodles to explore in the city, I had the pleasure of wandering into the Teen Challenge store on Ash this week. Following the bright orange flags from Maple and Knox, I discovered a second-hand shopping experience that, in fact, is saving lives.
Teen Challenge is a national faith-based organization that provides 12-month residential services for all ages struggling with life-controlling addictions. Spokane is home to a men's program, though facilities across the country also provide services to youth, women and families. To help fund their efforts in part, the Spokane Center operates two thrift stores within the city, where donated goods are sold to the public. Items collected are generally priced at 30% of their original retail cost, making housewares, clothing and furnishings more easily accessible to low-income families and discerning bargain-hunters.
As if this thrifty feel-good factor weren't enough, the stores also serve the community by staffing them almost exclusively with program "students", men who are gaining real-world work experiences designed to help ease the transition to life post-program.
There will always be lots of causes to support, and during these times of economic uncertainty when grants dollars and charitable contributions are waning, it's exciting to see organizations like Teen Challenge funding their efforts in creative ways. Social entreprenuership is defined as the process of using entrepreneurial principles to organize, create and manage a venture to achieve social change. Spokane's Teen Challenge Center is doing it well.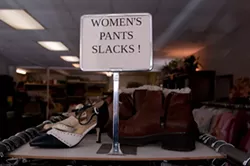 Well-organized and sorted, the store shelves only about 50% of what they actually receive in donations. Much has to be discarded because it's no longer usable or in sellable condition. Inventory turns frequently. Generally, every three-weeks.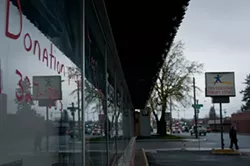 Teen Challenge distributes flyers soliciting donations from local churches, but still struggles, given budget contraints, to brand themselves effectively in Spokane's competitive thrift store market.
Dan Davenport, the Store Manager and only paid employee, says "you'd be surprised what people throw away". The store focuses on creative merchandising and top-notch customer service to help move product -- especially the items that, without a little effort, might be overlooked and not immediately sell.
The Teen Challenge building on Ash was in bad disrepair when the store first opened 8 years ago. Since then, staff and students have been working creatively to clean up the space and make it more interesting and inviting.
Mark Syzemore, 46, explains how he tried to enter Teen Challenge five years ago, but at the time, health issues and his attitude, were getting in the way. He's a husband, father and grandfather who, on the 26th of this month, celebrated a successful one year anniversary with the program. He looks forward to reuniting full-time with his family soon.
A local watchmaker supports Teen Challenge by fixing old watches he receives, then donating them for sale in working order.
Jeffrey Morris was a concert producer accustomed to the fast, high-life until he awoke one morning and realized that something really critical was missing. Due to graduate from the Teen Challenge program this summer, he says he enrolled "to give God another chance at saving [his] life".
With faith and service as their guide, the store works with a considerable number of low-income familes in the community and continues to look for ways to grow and improve.
ABOUT WANDERLUST: The photo series is a 60-day visual story-telling project that explores the seemingly ordinary places, people and things we experience everyday. It's about being curious and asking questions. It's about wanting to know more about the world around you and seeing it from fresh perspectives. If you have ideas on where I should wander, drop me a line: amyh@inlander.com.