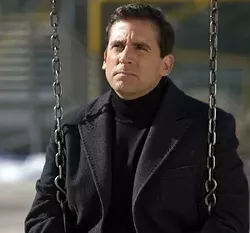 At his University of Oregon fraternity, my dad once told me, some idiot would always say "That's what she said" after any line of dialogue that could be interpreted the vaguest bit sexually.
I thought that was stupid, and was pleased that we, as a society, had moved past such immaturity.
But then along came Michael Scott (Steve Carell) boss on The Office. His "that's what she said" catchphrase was intended to be ironic, we were supposed to be laughing at his immaturity instead of applauding his wit. But America somehow took up his catchphrase anyway, applying it in nearly every circumstance, and garnering hearty laughter when doing so. Such was the power of Michael Scott.
Tonight, in an extended episode Scott, and Carell for that matter, leaves the show.
His inspiration, David Brent, on the U.K. Office was mainly a boor. He was a nightmare boss, a wit who wasn't witty, a comedian who wasn't comedic. The series slightly explored Brent's sadness, but mostly he was the catalyst of cringe comedy. He simply became shorthand for awful, annoying boss.
Scott started out that way. Literally, in the first episode, Brent's dialogue was crammed into Scott's mouth.
But that's the great thing about American TV – Brent only had 14 episodes to evolve. Scott has had 147.
He's not just someone who wants to make his coworkers laugh. He's deeply loyal to his company – to the extent of not being deeply loyal to profitability. In one sense, he's incredibly selfish and self-absorbed – but somehow that selfishness extends to caring about his staff members. He truly wants his employees to be happy, as long as their happiness never interrupted his.
He's a brilliant salesman, promoted to incompetent manager. He's a naive romantic who desperately wants to get married, have kids, and make friends. Really, deep down, he's a little kid full of big dreams and desperate loneliness. Actor Steve Carell played that brilliantly, imbuing the role with a childlike humanity that made him somehow likeable amid his sensitivity.
The writing for Scott's character was inconsistent, however – and not always in a way that gave him more depth. Some writers had a handle on Scott as an almost-real person, others made him into a cartoon. Incompetency over racial sensitivity is one thing, driving into a lake because his GPS told him too is another.
The writers had all sorts of ideas for how to get rid of Scott. He's fired once and for all. He commits suicide. The way they chose – he ends up with the love of his life and, as a result, has to move away from Scranton – was predictable in a way. It was also a happy ending that, after six years of rooting for the character to not be such an idiot, viewers will be happy to see Scott receive.
That about sums up the great contrast between the British series and and the American series. Our Office is not about how the bleak, oppressive, idiotic nature of the workplace crushes spirits. It's about how there's joy and creativity and success — and happy endings — to be found in the bleak, oppressive, idiotic nature of the workplace.