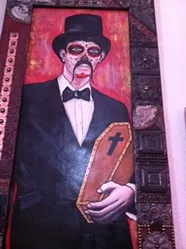 Did you buy a sweet painting at the Visual Arts Tour? Spill mustard on a sculpture on display? Did a band on the Terrain stage change your life?
You need to tweet about it.
Join The Inlander as we live-blurt our progression through tonight's festivities. Follow along on Twitter and join in using the #vat, #terrain and #spokane hashtags.

If last night's preview was any indication, the tour will be a grand ride for the retinas, eardrums and whatever other senses you prefer to exercise. (Doubt that? Refer to "Mourning," by Bruce Maurey, above.)
The tour, made up of exhibitions across Spokane, runs tonight from 5 pm to 9 pm. Check the map below to see the stops on the tour.

View Visual Arts Tour Oct. 2011 in a larger map