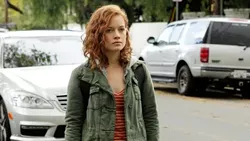 Sometimes – arguably many times – TV critics pick the wrong shows to focus on. The big stories on new sitcoms this year focused on the heavily hyped, heavily mediocre new comedy The New Girl and the jokes-from-1995, format-from-1950 multi-camera sitcom 2 Broke Girls.
Yet, Suburgatory, which just received a full-season order, is the best comedy to premiere this season. That's not hyperbole — the bar is, frankly, pretty low. But Suburgatory, about a city girl who has trouble adjusting to the suburbs, despite her wit and spunk, works on a "pretty funny, mostly sweet" level that is far better than the mostly cynical and mostly obnoxious tone of some of the other comedies.
But more interesting than its general quality is its familiar tone: Quirky, witty generally attractive high school girl, suffering a mystifying bout of unpopularity, wryly takes down the superficiality of her more idiotic, status-obsessed suburban peers, while occasionally succumbing to the seductive charms of popularity.
That describes Suburgatory pretty accurately. It also describes MTV's Awkward, a show that — besides being darker and quite a bit more sexual — is, tonally, almost identical to Suburgatory. Expand the definition to movies and, immediately, Easy A and Mean Girls raise their hands. Make the definition a bit looser and shows like Veronica Mars fit.
The fact that there are shows of similar styles isn't all that curious, but the specificity is. The protagonists in Easy A, Mean Girls,and Suburgatory all have red hair. Easy A, Suburgatory, and Awkward all have clueless, ditzy guidance counselors. In Mean Girls and Easy A, the protagonists each draw specific parallels to compare wildlife behavior to the social interactions of their peers.
It's not to say this particular genre is bad. It's a better type of show than its teen drama counterparts. The ironic distance of the voice-over keeps the show from plunging into the ridiculous plot twists, Machiavellian mechanisms and angst of The O.C. or Gossip Girl.
But is it too much to ask for some more variety between these shows? Like, what if there was a high school boy, who was sarcastic, witty, unpopular, and prone to voice-over? Wouldn't that be crazy?