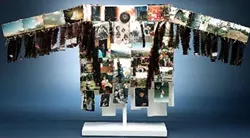 If you're feeling short on eclectic Native American artistic sensibilities tomorrow night, head to the Magic Lantern Theater.
Nationally recognized mixed-media artist Bently Spang will be there as part of the Visiting Artist Lecture Series, a consortium of EWU, SFCC, the MAC and the Sahlin Foundation.
Spang messes with the stereotypes of Native American heritage and culture. To get his point across,this guy has done everything from riffing on traditional Native American garb (look above) to dressing up like Elvis.
The shindig starts at 7 pm and runs an hour.
Inquisitions? Find Tom O'Day @ 509-533-3746 or tomo@spokanefalls.edu