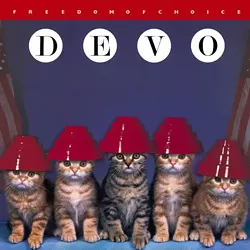 TONIGHT!
You wouldn't know it's December from looking out the window, wouldja? Well it is, and it's First Friday — the monthly night of visual art and music and, if you're lucky, complimentary wine and cheese.
Terrible Buttons
will be providing musical accompaniment. Gotta be 21.
And downtown at Brews on Washington, see the Inlander's own Derrick King's "Derrick King Christmas Experience," with music by the Fabulous Chicken a la King. My god, is that not the best band name you've heard in years? I suspect this show will include chicken costumes. Gotta be 21. Artist reception starts at 6:30 pm.
Over at the Globe, check out the art by Scott Gyllstrom, and music by BBBBandits, the Camaros and Whiskey Dick Mountain. This one has the potential to be nutso. DJ Aphrodesiac spins records to get things started around 7 pm. Gotta be 21.
When we heard about the Kenny Werner Quintet coming to town, someone had emailed us to say that the band's arrival in Spokane was as exciting as Kenny Chesney coming to town. We were baffled: Is that exciting? Or completely underwhelming? We translated that this show is huge news for local jazz freaks. Between Werner and his band, they've got two Grammys and have played with just about everyone from Steely Dan to Dizzie Gillespie. Ridiculous resume, really. Check them out tonight at 8 pm at Spokane Falls Community College. $15; $10, students and seniors. All-ages.
SATURDAY!
Monumental Booking throws its annual Nightmare Before Christmas showcase tomorrow night at the Hop! This year's bill features Yukon the Archer, Straight to Our Enemies, Light Up the Sky, A Death Among Heroes, All Starts Here, Prosper and What Kings Once Held. Starts at 5 pm and costs $10. All-ages.
Yes, in case you were wondering, there are TONS of similarities between Kid Rock (who plays the Knit next week) and Puddle of Mudd — who takes the stage tomorrow at the Knitting Factory. Oh the joys we had finding them. Read our story here comparing the irresistibility of Kid and Mudd's frontman, and then go see the splendor tomorrow at 7:30 pm. $25. All-ages.