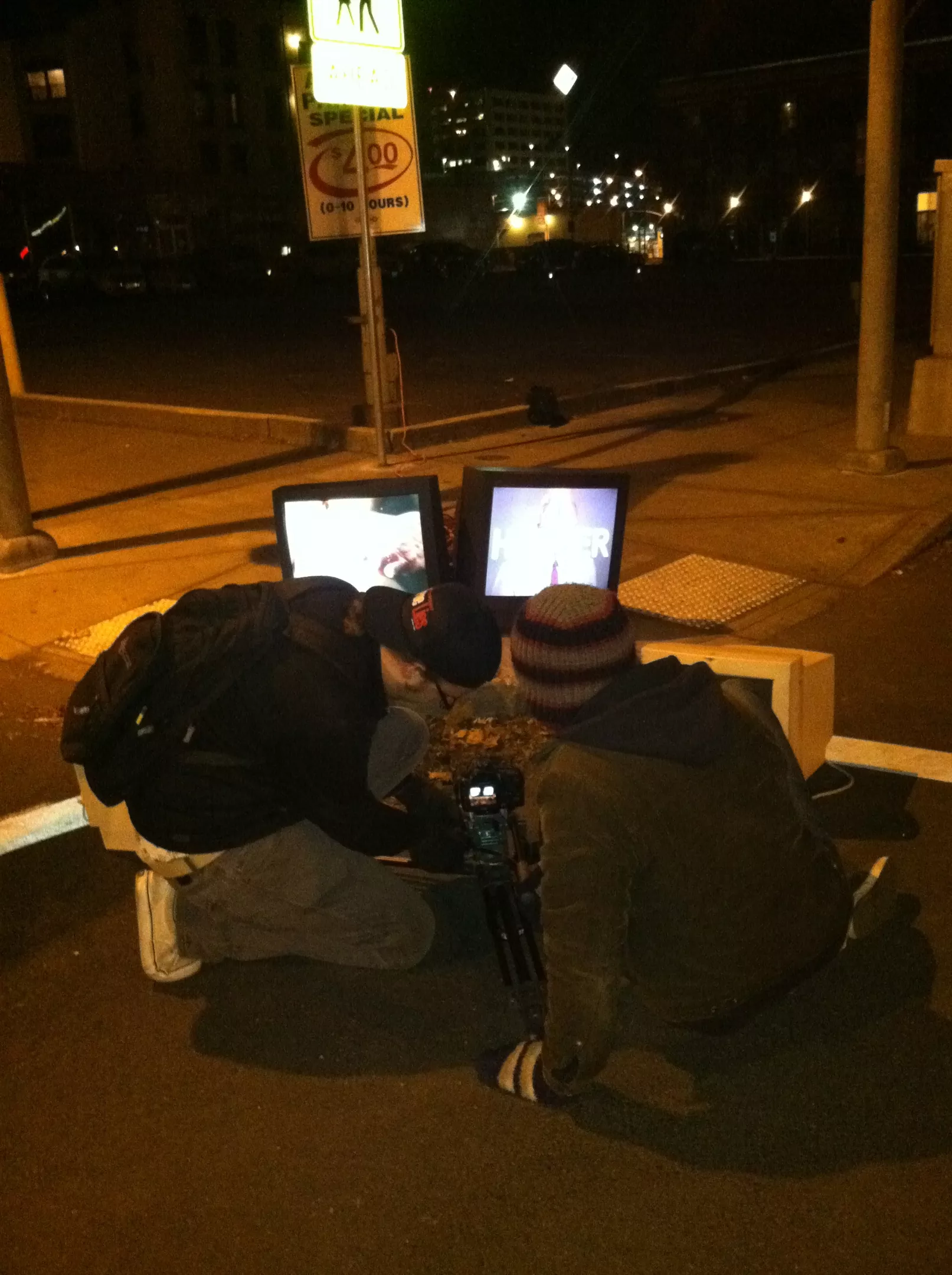 Watch TV Outside
— At 1 am Monday morning, art student Jamin Kuhn and a friend were watching television. They were also doing it while laying in the street on the corner of Howard Street and Second Avenue downtown.
Kuhn, a senior at EWU, had rigged two televisions up with power as part of an installation art piece. Both screens showed clips from an instructional CPR video as a back drop to the words "TRY HARDER."
"I was watching the tape and I found it interesting how hard we work to keep ourselves alive," says Kuhn after putting the finishing touches on his project. "All the hoops we jump through."
Kuhn says he's abandoning his piece, so steal a look before someone takes it away. If it hasn't happened already.
Unopened mail tips off others to woman's death — A 43-year-old Deer Park woman was found dead in her home Saturday morning after a collection of unopened mail and packages spurred a call to police requesting a welfare check. Due to "suspicious circumstances," the death is being investigated as a homicide. Although detectives refuse to disclose the nature of the circumstances, a friend of the woman called KXLY and said domestic violence may be involved. Her autopsy results are expected to be in today, in which the official cause of death will be ruled. (KXLY)
"Freak accident" nearly kills North Spokane man — In tree-related disaster No. 1 for the weekend, tree-removal worker Ryan Curtis is in critical condition after a rope snapped, striking him across his neck and chest while on the job. What's more is that he was misreported as dead to his family, who later learned he was still alive and undergoing surgery. (KREM)
Six go missing on Idaho mountain, are rescued — For tree-related disaster No. 2 this weekend, a group of two adults and four children from Boise went missing overnight in the Idaho wilderness after setting out to find a Christmas tree on Saturday. Search parties were combing the relatively large area from Prairie to Bogus Basin when they found the group had rescued themselves. One of the adults, Justin Kaserman, left the others in their truck and walked to a highway to get help, arriving there around noon on Sunday. (KREM)