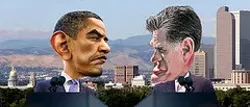 I asked Cathy McMorris Rodgers last night what advice she had for Republican contender Mitt Romney going into tonight's presidential debate, which, by the way, you should join us for.
"I think it's important that Mitt Romney just relax and that we get to see Mitt Romney just for who he is," McMorris Rodgers said.
Solid advice, but as I thought about tonight's debate between Romney and President Barack Obama, I wanted more substance, more depth. So I asked the real experts — The Inlander editorial staff — what advice they'd give the candidates. You're welcome.
Daniel Walters, news writer:
Romney: "Despite how admittedly pimptacular it makes you look, ditch the green tie with all the dollar signs on it."
Obama: "Promise to fix the economy, really for-serious not-even-joking this time, guys."
Luke Baumgarten, arts writer:
Both: "Just be yourself, sweetie."
Chey Scott, listings editor:
Both: "Stop twisting the truth."
Mike Bookey, culture editor:
Romney: "Remember to have Tim The Oil Guy oil all your joints so that the mics don't pick up those pesky robot noises you're always making."
And what do I think? Here's what I think:
Romney: "Go for Obama's jugular like a deranged, starving shark - with a laser beam."
Obama: Step 1 - get Joe Biden on stage. Step 2 - get out of the way."
(Photo courtesy of DonkeyHotey)