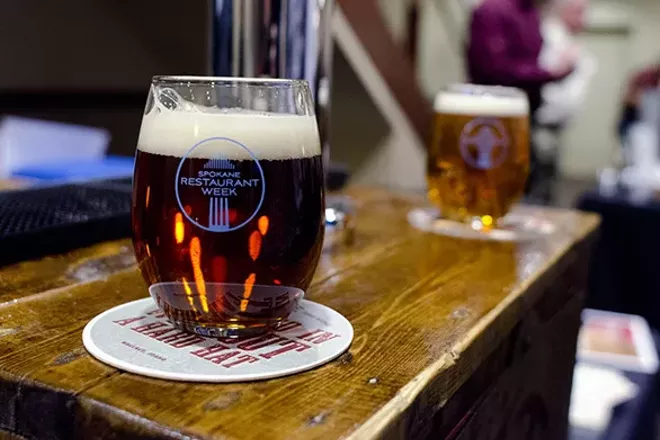 There's no turning back now — Spokane Restaurant Week had a kickoff soiree yesterday evening at the Lincoln Center. It's less than a month until the event officially begins on Feb. 22, and the event gave organizers an excuse to remind participating restaurants about getting their menus posted by the end of this week.
(If you're still thinking, 'What is this restaurant week thing?' — here's the post we wrote before, here's the story announcing it and here's the FAQ on the Spokane Restaurant Week site.)
A big part of Restaurant Week is making an opportunity for restaurants to attract new diners, but there are other businesses trying to attract the attention of restaurants. URM Food Service, a Spokane Restaurant Week sponsor, organized a variety of appetizers showcasing some of their products. Chefs had helpfully turned those ingredients into tasty salads, desserts and bite-size appetizers.
Local beer and wine was also available to highlight Drink Local, a sort of unofficial part of Spokane Restaurant Week — it's not required that participating restaurants serve local beverages, though it's highly encouraged and many already do. And why wouldn't they? That's Wallace Brewing Company's Red Light Irish Red up in the very top photo, and it was quite tasty.