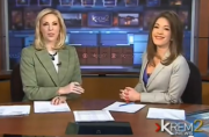 A slip of the tongue in a KREM weather report has turned into a viral sensation of the day. In the video clip,
posted on Gawker
this morning, weather anchor and reporter Danielle Grant is giving the weeklong weather report:
"…and then the weekend — so far, so good. It should be in the 40s, so slow and slutty — slutty? — steady wins the race."
The viral appeal, of course, is that it's a forecast covering Valentine's Day, even though the funny part was actually about the following weekend. A number of other reports mistakenly identified the news anchor as KREM's Katie Boer. They're both brunette women who deal with the weather so, you know, totally understandable even though Danielle's name is actually on the screen for half the video clip.
We reached out to Grant to see if she wants to comment about the clip. And, it's worth noting that this sort of thing makes every one of us at The Inlander very relieved to be print journalists.
Also, KREM has a history of having fun with their own bloopers. Here are a few good ones: 
Video | News | Weather | Sports
Fri Oct 26 06:50:09 PDT 2012
Oops! Morning show blooper
Web producer Erin Powell doesn't normally come on the show, but today she made a special appearance. view full article
Video | News | Weather | Sports
Wed Nov 28 08:18:09 PST 2012
Blooper! Hayley's hair and live shot error