Riding high on last night's WCC championship slaying of Saint Mary's, a group of industrious Gonzaga students unveiled this video today. It is hilarious.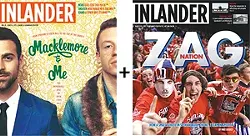 A parody of one of the most popular songs on the charts could have gone horribly, horribly wrong and corny. But it's damn well done, and this is coming from a man who celebrates all of Weird Al's discography. So yeah, I know a thing or two about song parodies, OK?
I'll go ahead and admit it — this is probably better than my feature on the Zags' domination running in the current issue of The Inlander.