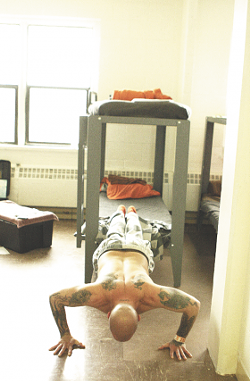 Spokane County officials released new details today outlining overcrowding issues in the local jail system, highlighting significant increases in the jail inmate population in recent years.
The Spokane Sheriff's Office reported the average inmate population has increased from 736 in 2010 up to 950 this month. Both totals remain lower than previous highs near 1,126 in 2008.
Capt. John McGrath, commander of the Spokane Sheriff's Office Detention Services, says in a news release he expects the increase to continue. He says jail staff have faced challenges in keeping inmates safely separated.
"You have to separate the men from the women, the special needs inmates and the sex offenders," he says in the release. "As the jail gets closer to full capacity, it will get harder to segregate some inmates. It's just not a safe environment."
Historically, the Sheriff's Office has overseen jail operations for the county. Spokane County Commissioners voted last month to assume authority over Detention Services, making it a new county department under their control on June 1.
Detention Services oversees jail operations at both the Spokane County Jail near downtown and the Geiger Corrections Center. Jail officials report both facilities have a capacity of about 1,200 beds, but recent cutbacks have reduced the available beds to about 860.
County Sheriff Ozzie Knezovich says in the news release the recent overcrowding reinforces the need to construct a new Community Corrections Center to handle the expanded capacity needs of the county. He argues the current facilities fail to provide the security and capabilities for efficient jail operations.
"It's about building the right size jail system that is designed to work efficiently with us, not against us," he says. "It's about always having a bed available when someone needs to go to jail. It's having a Community Corrections Center that provides evidence based programs for offenders to be successful, productive citizens in the community so they don't keep coming back to jail."
Early estimates for building a new corrections center total nearly $200 million. Knezovich says the project has been placed on hold.