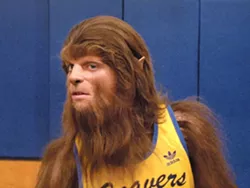 On Wednesday night, we're welcoming you to drink some great local beer with us while watching one of the best bad movies of all time.
That movie, of course, is a little flick called Teen Wolf and I wrote about it at length in this week's paper.

It's all happening at the Bing Crosby Theater and here are the details.
You might think Teen Wolf is just a silly '80s movie, but that's where you're wrong. What other film gives you the sort of advice dished out by the film's coach Bobby Flinstock? He's the guy who gave us the three rules to live by. Watch below and then we'll see you on Wednesday.