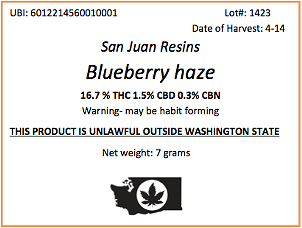 The
Washington State Liquor Control Board
released their first pass at rules for marijuana growers, processors (who will package and label the product) and sellers today. Scroll down for the full PDF.
The rules outline the state's proposed process for licensing each, and offer a producer/processor license for people who want to grow, process, package and label their product. The rules call for background checks of applicants, a points system to determine whether a person has had too many convictions to qualify for a license (see page 7) and requirements for submitting operating plans — employee training, what products they'll handle, how they'll dispose of waste, etc. Production will be allowed in indoor greenhouses only, and the location rules written into I-502 will pertain. (See here.)
License applications will be $250, the annual fee for license renewal is $1,000 and the board will conduct random criminal history checks at renewal time. Applications will only be taken within 30 days of the day the rules take effect in August, but the board may reopen that later.
Each county will have a limit on the number of retail locations (exact numbers have yet to be announced) and the board will use a lottery if it gets more applications than retailers allowed. The rules also outline limits on serving sizes and requirements for everything from how to measure and test the quality of pot to labeling (see photo above), advertising, insurance, alarm and surveillance systems, record-keeping, taxes, disposing of marijuana waste and penalties for breaking the rules (i.e. $2,500 for a first-time offense of selling to a minor).
The board is now taking comment on the rules (email rules@liq.wa.gov or write to Rules Coordinator, Liquor Control Board, P.O. Box 43080, Olympia, WA 98504-3080 by June 10) and plans to hold public hearings on them in July before they're implemented in August. Voters passed Initiative 502 in November, which legalized small amounts of recreational marijuana, grown and sold under a state regulatory system, and set a Dec. 1, 2013, deadline for the board to have its rules and regulations ready to begin issuing licenses.
The full rules: