My sister Lynsey hates being late.
She used to make our mom leave 25 minutes early to take her to basketball practice, a 10-minute drive. She still holds some resentment against me for all the times in high school when I drove her to school and my senioritis made her late. (She did get a handful of lunch detentions for that.) She likes to be in the movie theater before the previews start.
She doesn't have the patience for being late, or the time anymore.
Between finishing high school and her dual-enrolled college classes, working full-time at a hamburger joint, indulging our mother's pre-empty-nest sentiments and reveling in the last of legal minor-hood, she hardly has the time to do anything, let alone call her own sister.
But she makes time for one thing in particular: a 1952 Chevy half-ton pickup truck.
It's a four-year project that has claimed a good chunk of Lynsey's adolescence. Every week since she was 14, Lynsey goes, in a timely manner of course, to the garage of a family friend, professional mechanic and classic car enthusiast named Terry to work on her truck. It's a project she started with inspiration from our brother's senior project, restoring a 1965 Ford Falcon, to prove to herself that she could.
She's about done with her original goal of getting her truck in a functioning and street-legal condition. But she recently set another goal — to cruise in the Car d'Alene this weekend.
Lynsey showed me the list of things that she had to finish three weeks out and it was a page long. The tasks were as simple as installing the seatbelts to as daunting as starting and finishing the wiring. She had a long way to go.
And she almost made it. The wiring's not quite finished and it's not registered or insured. It's not street-legal and it's not going to cruise in the Car d'Alene. She's late.
Lynsey hates being late because she doesn't want to miss out on anything, whether it be the first basketball drill, Mrs. Carlson's sophomore English class, that new Iron Man preview or a classic car parade.
But, although it would have been badass to cruise, I don't think Lynsey missed out on what was really important about her truck. You don't learn determination, motivation, passion and pride driving down the crowded streets of downtown Coeur d'Alene. Lynsey learned all that in Terry's garage.
And I saw her display it all at her graduation party, when she brought the truck home. I saw it when she attempted a cartwheel and did a jig when she pulled it up on the trailer; when she burned a tank of gas showing the entire neighborhood how loud the engine is; when I leaned against the wheel wells and had a beer with her, watching the sun set. I saw it in the grease under her fingernails and the smile that stayed on her face all day.
No, it's not done. Yes, she is late. But no, she did not miss out.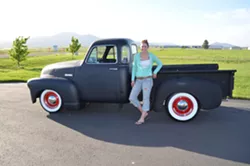 She'll be watching the Car d'Alene from behind the cashier's stand at the hamburger joint, but you can get yourself a better view. The parade starts tonight at 6 pm. You could probably find Lynsey wandering wide-eyed through the classic car show, which includes a swap meet and the winners and trophies presentation, anytime between 8 am and 4 pm tomorrow in downtown Coeur d'Alene.