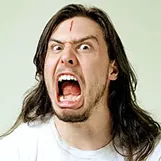 Andrew W.K., perhaps the most
amazing partier
on the planet, all-around positive guy,
motivational speaker
and wearer of nothing but plain white T-shirts, announced recently that he was going to play the drums for 24 straight hours.
Well, he's almost done it. As of this posting, he was closing in on 20 hours of straight beat keeping in a Times Square store.
Watch him live: