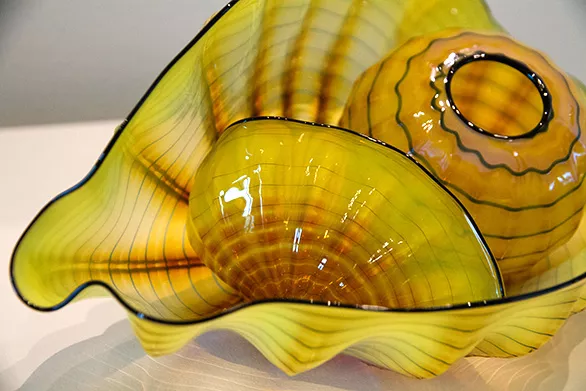 Earlier this year, we told you about Dale Chihuly's exhibitin the Jundt Art Museum at Gonzaga University and his coinciding lecture at the BingCrosby Theater in April. Although the lecture tickets sold out lightning fast,the exhibit continues to run in the museum for a limited time.
A famous Northwest artist, Chihuly is not only known for hisstunning and colorful glass pieces, but for making glass art a popular culturaltrend. His work is included in more than 200 museums worldwide, including theJundt Art Museum.
The "Gonzaga Red Chandelier" has hung in the center of theChancellor Room year round since 1995, but several of his pieces from Gonzaga'scollection are now part of an exhibit titled Chihuly: Tradition and Transformation in the museum's ArcadeGallery. The exhibit includes glass as well as drawings Chihuly created duringa 1995 session with students on Gonzaga's campus and will be on display untilJuly 31.
In case you missed the sold-out show, Gonzaga and Chihulyhave created a video of the lecture that will be available until the end of theexhibit.