I woke up on Sunday, the day after Paradiso, on the hard ground in my tent. Just a few hours of half-sleep stood between me and the end of the festival. The campsite was already bustling with people packing up their sleeping bags and coolers, still in denial that the weekend was actually ending.
We said our goodbyes — man, what an incredible two days. We'll be talking about this one for years, I'm sure. Hugs, high fives, and a long line to exit the Gorge would send everyone back to the West side, Spokane, Walla Walla, Pullman. It felt surreal.
My phone had been dead the whole weekend, and it felt nice to be off the grid. My boyfriend and I rode back to Spokane mostly in silence, giving us a chance to sift through the different performances and rest our ears.
It will be one of those legendary weekends I remember best for camping with my best friends, seeing some of the scene's best DJs live with thousands of other ravers, and bitching about the heat. Factors like those have a way of pulling crazy people together, and when I came through the gates I felt like I'd begun some sort of dubstep pilgrimage. We the pilgrims had come to rave.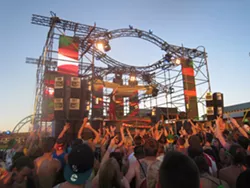 DJs like the female twin-duo Nervo delivered with brand-new songs, and seasoned crowd-pleasers like Zeds Dead balanced the new with the remixed old — and in this genre, old is practically last month's beats.
In possibly the most unique visual and musical act, Infected Mushroom brought its hypnotic "Fungus Amongous" trance tour to the festival. Duv paced the stage tapping the microphone on his bald head singing live to songs, which included a hard as hell remix of Foo Fighters' "The Pretender." The pair stood inside custom white globes projecting psychedelic images, so if their performance of "Heavyweight" didn't blow your mind, I don't know what would.
Kaskade performed the two-hour finale, returning to headline at the Gorge after his 2011 Identity Festival performance. As expected, his set was fluid and fantastically produced, never a repeat of any other. He infused us with big-room house and words for our generation:
"We're not searching for a name
Or looking back the way we came
We're not lost, we're not ashamed
We are right now"
As soon as we got home, we napped. Hard. Right after a shower, of course. The weekend of dancing and hot sun wore me out.
I plugged back in the next morning and checked my messages. Mom: "Did you hear about the ods at Paradiso? 1 dead and 100 sickened! Molly the cause." Oh no. Facebook feed: Right at the top, news articles about a death, missing persons, dehydrated and hospitalized kids.
I can't say I was surprised. It had been nearly 100 degrees the entire weekend. People leaving from both sides of the state had just experienced days of cool rain, so none of us were ready for the heat wave. The two days were intense, in little shade with plenty of activity between shows and the water spigots, even for those who brought camelbacks and water bottles. While drugs were indeed prevalent last weekend, throw 25,000 sober people into the Gorge and some are still going to drop in the heat.
MDMA (Molly) was there too, in abundance. And it's a shame that people took the drug without investigating its side effects, two of which are raised body temperature and dehydration. At an 18-and-over festival, adults should have known better. While it is not certain that anyone technically took a lethal overdose of Molly, it's clear people were taken down by its effects combined with the heat, lack of water, alcohol and other drugs.
The Festival at the Gorge was beautiful, musical, full of friendship and amazing moments. It's a real shame that people got hurt and someone died. It's also shame that headlines of death and drugs have been splashed all over the Paradiso experience, diminishing what was otherwise a truly fantastic weekend.