Much too often, for a variety of reasons, a homeless pet living in a shelter will wait out a year or longer to find its forever home. As sad as this is, these animals' reality can be looked at a few ways.
First of all, the fact that they've simply had a place to wait so long to find a new home — at a no-kill shelter or rescue — is a positive thing. The number of no-kill animal shelters and rescue groups is growing every year as society's value placed on these animals increases. Still, millions of animals each year are sadly never lucky enough to end up in a no-kill facility.
On the other hand, though, this cat or dog has lived one full year (some more, others less) of its short life inside a small kennel or run, a tiny fraction of the amount of space it would have in a permanent home. Yes, it receives food and water each day, and sometimes the staff or volunteers stop and play with or pet it, but it's nothing close to the level of interaction it would receive in a permanent relationship with an owner.
Both of these have been realities for Mittens since July 15, 2012. This coming Monday, Mittens will have been at the Spokane Humane Society for a full year.
For the most part, she hasn't minded the shelter life much, but it does make her feel a bit grumpy, which likely has also contributed to the length of her residency there.
The five-year-old tuxedo-pattered gal is a bit feisty, but only because she's not one to lavish her affections on everyone she meets. Understandable, right? Mittens is holding out for "the one."
Spokane Humane Society kennel technician Pamela Gardner says Mittens just takes time to warm up to people, and because of that she comes across as sassy or aggressive to visitors.
"Mittens really has to get to know you before you can really get away with touching her and such. She must think she's part dog because she wants to smell your hands before she might give you the okay to touch her."
Gardner recommends Mittens be adopted into a home without children (this is non-negotiable, from Mittens' perspective), and that she should be an only cat, if possible. Mittens might do okay living in a home with a dog as long as it's a calm dog that knows to keep its distance and not bother her.
"She just needs someone who is truly willing to give her the time to adjust and become like she is here," Gardner says.
Currently, Mittens hangs out in an free-roaming, communal cat room at the shelter called "Purris." This room is designated for cats that may have a harder time adjusting to life at the shelter, and allows them to transition more gradually into the sights, sounds and smells of the shelter. Some cats in Purris are also a little more "testy" and don't always provide noticeable cues to people that they want to be left alone. Visitors who want to meet the kitties in Purris need to ask a staff member to let them inside, which helps the cats retain a bit more calm in their daily lives.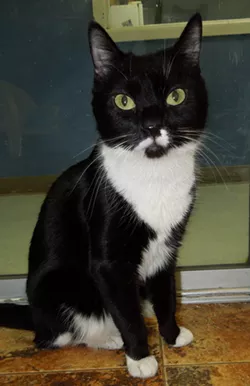 Mittens doesn't mind the shelter life too terribly, even though she's been there for so long. She gets yummy food every day, including the occasional treat, drinks out of a special kitty water fountain and has a cozy perch she likes to lay to look out the window to the hallway outside Purris. She lives in the room with several other kitties, but prefers to keep to herself.
If you or anyone you know might be interested in meeting Mittens and maybe giving her a home before she reaches the one-year mark, the Spokane Humane Society is located at 6607 N. Havana St. (right before East Francis Avenue turns into Bigelow Gulch) and is open this weekend on Saturday and Sunday from 11 am-5 pm. Mittens' adoption fee of $25 has been waived since she's been waiting so long to find a home.