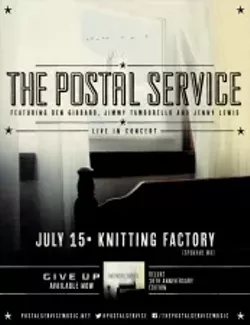 After a highly-anticipated reunion performance at this year's
Sasquatch Music Festival
back in May,
The Postal Service
is back together and has headed east of the Cascades again. The first stop on the Seattle group's summer tour is Spokane, tonight, at
The Knitting Factory
. We're actually surprised the show's not sold out yet, so
get your tickets
($29.50) while you still can; the music starts at 8 pm. The show's opening performer is a Los Angeles-based, mellow, electronic-pop project called
Baths
.
The Postal Service — here's a quick music history lesson for the non-super fans — is/was a short-lived indie/electronic pop group formed in the early-2000s as a side project of Death Cab for Cutie lead singer Ben Gibbard, in collaboration with Rilo Kiley's Jenny Lewis and musician/producer Jimmy Tamborello, of Dntel and Headset. In commemoration of The Postal Service's one-and-only record's (Give Up) 10-year anniversary, the three original members have reunited for an anniversary tour, and released two new songs on a reissued, remastered anniversary album.
For those out there who've been fans since the beginning, you better get out there and go tonight, because it could be another 10 years or more before you get a chance to see this supergroup perform together again. The tour kicking off here tonight snakes down the Pacific Coast and ends with a performance at Chicago's multi-day music fest Lollapallooza.
Gibbard, Lewis and Tamborello were spotted earlier today enjoying lunch at the north-of-the-river sandwich shop Stella's, but when we called to ask what delicious sandwiches they'd ordered, the staff couldn't remember. The folks at Stella's did tell us, however, that the group was very friendly and enjoyed their meal.