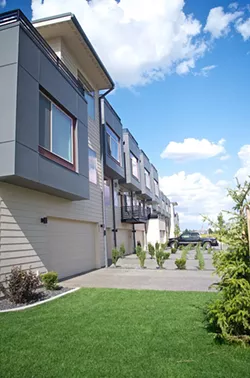 "Design, build, occupy" is the name of the game at Kendall Yards. With residential units — townhouses, apartments and single-family homes — at all levels of development this summer, big things will be happening in the next year or so. This week we wrote about the new Inlander building and talked to some other current residents. Here's the full rundown of what's here and what's coming soon:
100 units are already sold and occupied, 20 units are sold and under construction.
85 units are under construction and expected to be occupy-able by 2014.
A mixed-use (residential and retail) building is in design; construction will begin before summer's end to make it occupy-able by spring 2014. The building will have 24 6,000-square foot retail spaces downstairs and a number of studio apartments upstairs.
Phase 4 of residential design is underway, and will include 80 units – half will be under construction by fall, the other half before winter – ready for residents by 2014.
Developer Greenstone Homes CEO Jim Frank expects to have 200 units occupied by the end of this year.
"The market is responding really well," he says. "The neighborhood is striking a chord with a lot of demographic groups."
Frank says of the 100 current occupants, many are young people, downtown professionals, empty nesters, retirees and newlyweds.
In the business district of Kendall Yards, Greenstone is working on design for three restaurant buildings, each 2,500 square feet. The new restaurants will be announced within 60 days. All the restaurants will be locally owned and operated.
Greenstone is also working on leasing available spaces on the back end of the Spa Paradiso building.
Go here for more information.