If you noticed downtown crawling with a few more yoga-pants-clad ladies or dudes than usual today, this is why.
Yoga giant lululemon (lack of capitalization their own) opened today on Main across from the Pottery Barn and North Face. It's an upgrade from its previous, much smaller showroom on Howard. The Canadian-born store, which carries yoga accessories and apparel ($98 yoga pants!), was packed when we stopped by this afternoon.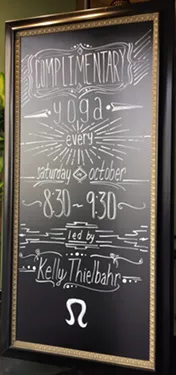 Scour the web and you'll find plenty of weird stuff about the company: the founder loves Ayn Rand, the company has some sort of cult-y tendencies and has come under fire for selling see-through yoga pants. A lululemon employee murdered a coworker in a Bethesda, Md. Then there's this bizarre blog post in which the founder says the company was born from the existence of birth control, breast cancer and women looking to balance looking good with exercising — but not being too competitive. Yikes.
But, this place is hosting something at 5 pm today called "healthy happy hour catered by Boots" and will shut down part of Main Ave. tomorrow to offer free yoga starting at 8:30 am.
More free classes will be offered every Saturday this month, according to a sign at today's grand opening.
Just one class can't hurt. ... Right?