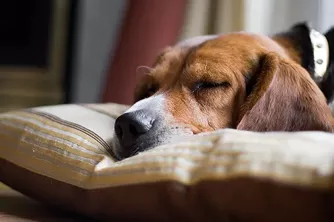 In the past five years, more than 3,500 dogs in the U.S. (and 10 cats) have gotten sick after eating jerky pet treats. Nearly 600 pets have died. After alerting consumers in 2007, 2008, 2011 and 2012, the FDA released a consumer update today about the investigation — and the cause is still a mystery.
Scientists have tested more than a thousand jerky samples and visited factories in China. They've tested for known contaminants like Salmonella, metals, pesticides and antibiotics. They've done nutritional analyses to make sure the listed ingredients are accurate. But without any clear answers about what's making pets sick, they're now asking for help from pet owners and veterinarians.
"This is one of the most elusive and mysterious outbreaks we've encountered," says Dr. Bernadette Dunham, director of the FDA's Center for Veterinary Medicine, in the update. "Our beloved four-legged companions deserve our best effort, and we are giving it."
Most of the jerky treats in question have been made in China, though the supply chain of ingredients is not always clear and pet food manufacturers don't need to list countries of origin for each ingredient. (The FDA has not named suspect brands or companies; there have been other, separate recalls recently for identified problems.)
These are the warning signs the FDA tells pet owners to watch out for:

Within hours of eating treats sold as jerky tenders or strips made of chicken, duck, sweet potatoes and/or dried fruit, some pets have exhibited decreased appetite, decreased activity, vomiting, diarrhea (sometimes with blood or mucus), increased water consumption, and/or increased urination.

Severe cases have involved kidney failure, gastrointestinal bleeding, and a rare kidney disorder. About 60 percent of cases involved gastrointestinal illness, and about 30 percent involved kidney and urinary systems.

The remaining cases reported various symptoms, such as collapse, convulsions or skin issues.
Pet owners can report problems at safetyreporting.hhs.gov, and find more information here. (Check out the jerky treat background here, and all pet food recalls and alerts here.)
The FDA doesn't go so far as telling pet owners to just stop buying jerky treats. But it suggests that might be a perfectly fine idea: "Pet treats are not a necessary part of a fully balanced diet, so eliminating them will not harm pets. All the nutrients your pet needs can be found in commercially produced pet food.