The Coeur d'Alene WinCo opened today! The Boise-based, employee-owned chain opened a new store in California today, too. Stock up on bulk candy before all the little kids stick their hands in there.
The South Perry winter market begins today, across the street from the outdoor spot at Buddhio yoga studio.
This Saturday the downtown Sweet Frostings is celebrating its 2nd Anniversary with $1 cupcakes all day. Stop by and keep them company — all the other ground-level businesses in the Hutton Building have cleared out ahead of the STCU remodel.
Alberta Bake Shop opened on Tuesday, and you can read more about it in this week's Entree newsletter. There's also more on the Trickster's expansion and Mad Bomber Brewing opening.
Coffee equipment worth $10,000 was stolen from a closed-up espresso stand in Hayden last week.
Chef Bob Rogers, who's been the chef at Masselow's since it opened in 2009, has been promoted to the position of Executive Chef for all of Northern Quest Resort & Casino, overseeing its 14 bars and restaurants.
If you're thinking about Startup Weekend, or needing an excuse to find out about it — Fire Artisan Pizza is donating a ton of pizza.
Paragon Brewing in Coeur d'Alene has been looking for a home for a while, and it sounds like they'll officially be moving into Sully's Irish Pub come spring.
The new Total Wine & More in Spokane Valley is planning on a Nov. 21 grand opening.
This isn't local, but it's a favorite of mine: The Lagunitas seasonal Brown Shugga is back at Rocket Market and Rocket Bakery on 1st.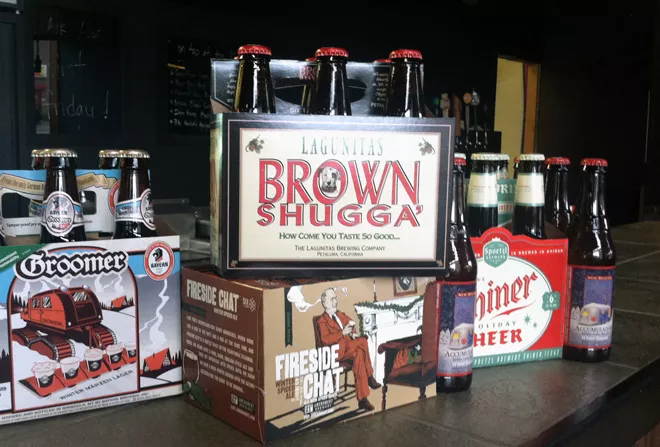 A number of restaurants are creatively using local beer in their food offerings, and Saranac Public House ups the ante this week with a dessert special featuring two local beers: a chocolate stout pudding made with No-Li Wrecking Ball Stout, garnished with a Laughing Dog Imperial Coffee Porter brown sugar cookie.
Finally, the annual Snowlander Expo is much better this year with the addition of the PowderKeg Brew Fest. There will be lots of beer and cider, and this week's issue has a few to be excited about in particular, like the new Saison d'Froid from Ramblin' Road. Each brewery or cidery will have one or two offerings. To answer a reader question earlier, yes, Ninkasi will be pouring its Sleigh'r seasonal ale.
Some other locals: River City will be pouring its new Midnight Marmot Imperial Stout — but if you can't wait for the Expo, they tapped the first keg Wednesday at the reopened Wild Dawgs, which we also featured this week. Orlison will have its dark Underground Stout Lager, and Hopped Up will have its Spruceter Winter Ale. Wallace Brewing will be bringing its 1910 Black Lager and winter seasonal.