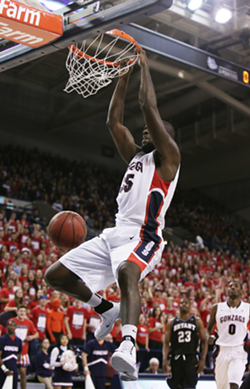 TONIGHT
In what has become Gonzaga's fiercest regional rivalry (ever since
Lorenzo Romar decided his Huskies couldn't be bothered to take on the Zags
) Washington State is coming into the Kennel tonight.
The Zags and Cougars tip off at 6 pm tonight. And unless you're a season ticket holder or have been
freezing your ass off for the last 36 hours
, you're probably going to be watching it locally on KHQ or on Root Sports outside of the greater-Spokane area.
Gonzaga comes into the game ranked 13 in the nation with three well-handled games under their belt. The Cougs have two wins in the young season, but those were against lowly Cal State Bakersfield and Lamar. They'll be looking to
DaVonte Lacy
for points tonight. The junior guard is averaging 24.5 points between those first two contests. You can expect the Zag's bevy of talented guards to stay busy tonight.
They might need it. The Zags needed a last second drive from Kevin Pangos to squeak by the Cougs last year in Pullman.
WHO IS AGENT ZERO?

Casual fans who tuned in to the opening contests of the season were probably wondering who in the hell was wearing number zero on the court for the Zags. They aren't wondering anymore. His name is
Gerard Coleman
and he's from Boston. But he's not a freshman — rather, the 6-4 junior played two solid seasons at Providence before transferring across the country. He made a hell of an entrance against Bryant, scoring 15 points and racking up 5 steals.
READY FOR MAUI

It's really cold here in Spokane. Like, crap-I-forgot-how-miserable-the-winters-are-here sorta cold. But the Zags are going to be in flip flops and tank tops in just a few days. Tonight is their last game before the Maui Classic, where they start off against Dayton on Monday night and could face ranked teams like Syracuse or Baylor if they keep winning. The last time the Zags headed into the Pacific Ocean, they won the tournament. The time before that,
this happened.
WHERE'S THE HAIR?

Maybe it's just me, or is this the first Gonzaga basketball team in the last decade without at least one player with excellent hair? Last season, there was, of course,
the sexy locks of current Boston Celtic Kelly Olynyk
. Before that, you could rely on Elias Harris for a solid 'fro. Stephen Gray had some killer dreads and Matt Bouldin's curls were the envy of the WCC. Going back even farther, you have Adam Morrison's mop-top, Ronny Turiaf's massive 'fro/cornrows. This was all preceded by Dan Dickau's shaggy do. Perhaps not surprisingly, one of Dickau's business ventures these days
is a barber shop in North Spokane.