Scientists estimate that global sea levels will rise as much as 6 feet in the next century, which has coastal cities around the world very concerned. Pair that with superstorms and stronger hurricanes, and even a foot could be devastating if cities aren't prepared.
Away from the coasts, though, people don't think about it much.
That's why, in October, marine biologist Andrew David Thaler starting making the issue more personal by taking requests for hometown visualizations based on the #DrownYourTown hashtag. It would take 168 meters of sea level rise to drown Austin, Texas, for example. Cincinnati would take 165 meters. Of course, this is just based on modeling, and sea level maps for inland cities mostly just show the absurd amount required to flood a city like Reno (1,400 meters).
Today, at the request of PJ Hendry, he did Spokane with 615 meters of sea level rise: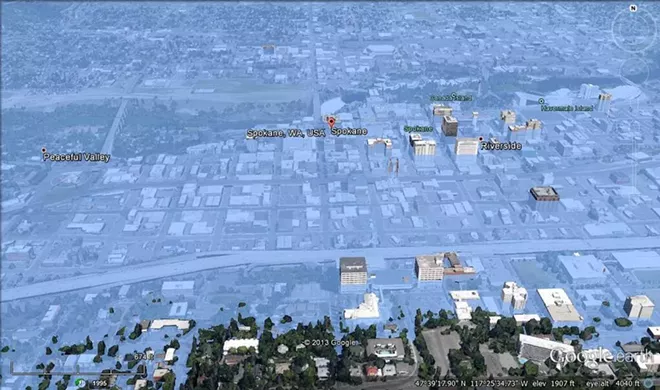 Good news for the South Hill — looks like it will take quite a bit to drown you. Peaceful Valley, not so much.
Still, the takeaway is that while coastal regions are actually in danger of rising sea levels, things would have to get unimaginably bad to put Spokane underwater. Scientists estimate that sea levels could rise 230 feet (about 70 meters) if all the polar ice melted.
But many of the images Thaler has generated are much less funny than Spokane's or Reno's. Seattle, for instance, at 15 meters: