Last week, Inlander photographer Young Kwak traveled with a crew from Fairchild Air Force Base to the Transit Center in Manas, Kyrgyzstan. Read his previous posts here.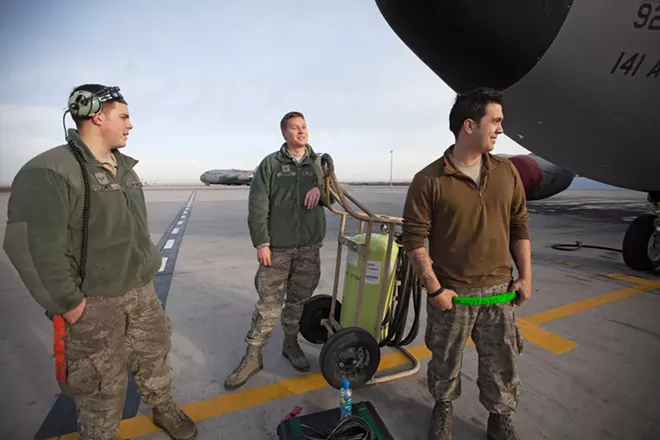 Senior Airman Nick Stevens, Airman First Class Joshua Jones and Airman First Class Mark Plott stand on the flight line in front of a KC-135 on alert status at the Transit Center at Manas, Kyrgyzstan. The three are crew chiefs from the 376th Aircraft Maintenance Squadron (AMXS) and are waiting for the air crew to show up so that they can check the airplane.
"It's ready to go at any time. As soon as they get the word, they're out. so we have to make sure every 24 hours that the jet is ready to go," says Stevens, describing what an alert status KC-135 is.
The air crew arrives for the check. Plott climbs up a ladder into the KC-135 to check the interior with Aircraft Commander Captain Alex Denton and Boom Operator Senior Airman Dave Fernandez. Stevens and Jones conduct an external check of the airplane with Co-Pilot Captain Mike Dobbs.
Jones turns on a Dash 86 generator, parked on the flight line, so that they can power up the airplane's systems without actually powering on the engines. Dobbs then leads the group to the starboard wheel-well to check landing gear components. He opens up the tire covers to ensure that each tire has adequate pressure. The three then walk out and inspect each of the two starboard engines. They check exterior hatches and look for damage as they walk along. The group then repeats the same inspections on the port side.
The interior checks take place at the same time. Everything is inspected, from windows, panels and doors to the components in the cockpit.
The airplane passes this check and the KC-135 is closed up and ready for immediate flight, if needed. Stevens says, "As soon as the air crew shows up, we can get engines running within 15 minutes."