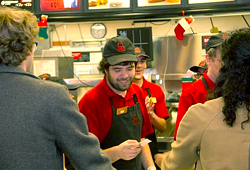 Volunteers with Big Table, the local organization for assisting food industry workers, spent Christmas Eve and Christmas Day handing out $20 bills to fast-food workers who had to work on the holiday. Here's a KREM video.
The Boiler Room opened just in time for Christmas on Dec. 23.
After 37 years, Alpine Delicatessen on Third Avenue is closing at the end of the year. But there's a plan to seamlessly reopen with new owners and a new name.
The Sidebar & Grill near the courthouse is closed "until further notice."
Black Label Brewing Co., which we featured in our Green Issue back in April, is moving into the old Merlyn's location at 19 W. Main Ave. this coming spring. The building has been generally under construction since last summer, and we've been hearing what the brewery mentions on Facebook — that the space will eventually house several local businesses in a market-style setup.
Zythum Brewing Company in Fairfield also had a breakthrough with licenses, meaning the taproom is coming soon. (They've also got a new website.)
This week's Entree newsletter has news about the closing of Asia Restaurant, including what's next for chef and owner Long Nguyen.
Washington State University's viticulture and enology program launched the first-ever student wine label, Blended Learning, a riesling.
Taste Washington, the regional wine event, is now called Swirl Washington.
There are only a few days left in the Yards Bruncheon + Wandering Table Kickstarter campaign.
Last week the first kegs of Liberty Ciderworks cider reached Manito Tap House and the Bartlett; now bottles are coming soon, too. Here's a draft of what the label will look like:
Read previous food news here.