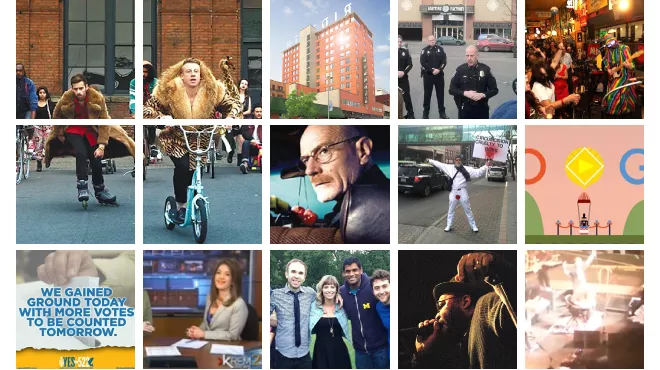 Even though it's not quite the end of the year, we'll go ahead and call it anyway — here are the Inlander blog posts with the most hits in 2013. Popularity doesn't necessarily correspond with quality, but it's still interesting to see what other people are reading. (We previously listed top searches; we'll do top print stories next.)
Top blog posts
1. How to pronounce rapper Macklemore's name
2. How Breaking Bad redeemed its worst mistakes
3. Does I-522 really still have a chance?
4. The Blue Spark bar closes after 14 years
5. Isamu Jordan, local hip-hop artist and music journalist, has died
6. KREM2 'slow and slutty' weather blooper goes viral
7. Cougs win and still embarrass themselves with #MeganCoghlanSucks
8. Check out Google's parachute doodle of the day
10. A peek at the $395 micro-apartments planned for the Ridpath
11. Macklemore riding a scooter in Spokane
12. Spokane Police chief shuts down Knitting Factory over recent violence
13. Pearl Jam gives the keys to Steve Gleason in Spokane
14. Spokane native Cami Bradley advances on America's Got Talent
15. Circumcision protester targets South Hill pediatrics clinic
You can see the posts that got the most online comments here.