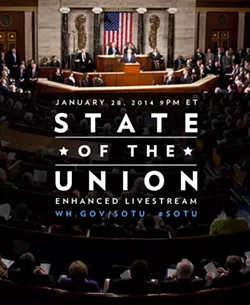 We haven't seen a single drink special or festive cupcake for tonight's big televised event, but that doesn't mean the State of the Union Address isn't going to be awesome. Well, OK, most people have pretty low expectations for excitement or surprises this year, even as far as presidential speeches go.
But you will feel like a better citizen if you bother to listen, and here are a few specific things to watch for this evening. If you get all the way to the end there is a cute baby photo.
7. What gets said about health care
Last year, President Obama didn't spend much time talking about health care, except to say that slowing the growth of health care costs is important for tackling long-term debt. With the rocky rollout of Healthcare.gov this year, will Obama talk about it directly?
6. Minimum wage and income inequality
Democrats in Congress have been pushing to increase the federal minimum wage — flat at $7.25 since 2009 — and extend long-term benefits for the unemployed. President Obama plans to sign an executive order setting the minimum wage for federal contractors at $10.10 — an action meant to show he's willing to go around Congress if he has to. Despite rumors to the contrary, Obama has issued fewer executive orders than any other president in a century — most analysts expect all these issues to be a major theme of tonight's speech.
5. The guest list
President Reagan started the tradition of inviting a few honored guests to attend the speech. On this year's list are two survivors of the Boston Marathon attack, the fire chief of tornado-ravaged Moore, Okla., and NBA player Jason Collins, who revealed he is gay in a Sports Illustrated story last spring. Two other guests may hint at education and innovation themes in the speech: Washington D.C.'s teacher of the year and a 16-year-old Intel intern who showed off his marshallow cannon at the White House Science Fair several years ago.
4. Cliches and camera shots...
... and a whole list of other things, if you want to play this year's all-new 2014 version of the State of the Union Drinking Game. (Realistically, do not attempt to play this game. But if you're watching with a group of people, you can print out the rules, cut them up and make each person draw a few.) Greg Gutfeld of Fox News has also suggested his own more subjective version of a SOTU drinking game. "Every time he says 'We could do better' as he fails at everything… drink."
3. The White House enhanced livestream
The State of the Union used to be simple — president talks, people watch on TV. But the White House knows that kids these days don't necessarily have TVs, so there's an "enhanced livestream" with share buttons, behind-the-scenes features and an official hashtag (#SOTU). If you're wondering exactly what "enhanced" means, the White House has put together a demo reel of past presidents' speeches with enhancement.
2. Gabby Giffords' gun control ad
For traditional TV watchers: Former congresswoman Gabby Giffords and her gun control group will air an ad around the time of the speech, calling on Congress to support background checks and stop being afraid of the gun lobby. Giffords, who was critically injured during a mass shooting in Arizona several years ago, is testifying this week in Olympia in favor of two Washington state gun measures.
1. Cathy McMorris Rodgers in the spotlight
After the speech, Eastern Washington's own Rep. Cathy McMorris Rodgers takes the spotlight for the Republicans' official response. She's the first woman to take on this role for the Republicans since Sen. Susan Collins of Maine in 2000 (who was paired with Sen. Bill Frist of Tennessee). Republicans could use some help with women voters — Mitt Romney would have won in 2012 if not for all those women voting for Obama — so putting a high-ranking Republican woman out in front is a strategic move.
The Republican Party put out this little video to introduce people to McMorris Rodgers and her role as, in her words, a legislator and mom.
Will she give the Seahwaks a shoutout? Unlikely, but the constituents want it! Here, from her Instagram feed, she is preparing for the speech with baby Brynn: