Some topics in this post should sound familiar: crowdfunding, fire sprinklers, an optimistic Spokane business owner and the revival/opening of a music venue.
The new lessors of the iconic Big Dipper bar — a once-thriving live music hub on the corner of Second and Washington that's been empty since the Empyrean closed two years ago — indeed have big dreams. But considering the community's support for the local music and arts scene the outlook is positive.
In order to pull off an opening later this spring as a venue that's regularly booking live music and other events, Big Dipper business owners Dan Hoerner and his wife Dawson (the building itself is still owned by longtime owner Steve Spickard) are reaching out to the community for support. Hoerner and a group of supporters who've been closely working to revitalize the aging building are launching a Indiegogo crowdfunding campaign for $50,000 tomorrow, Saturday, Feb. 22.
They've been working the past seven months to make structural and aesthetic repairs to the more than 100-year-old building, which was literally falling apart, from leaks in the roof to exterior structural damage.
Hoerner and his wife and their friends have invested their life savings into the building's basic repairs and upgrades thus far, but still need funding for one of the most crucial elements of reopening the venue: a fire suppressant sprinkler system.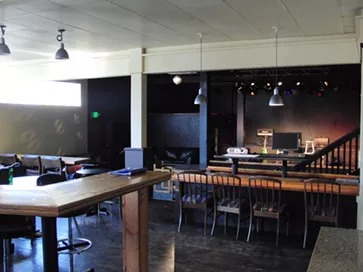 Many of us likely remember the intense city-versus-business-owner fire sprinkler drama after the state revised building codes to require fire sprinklers for "nightclub" venues with dance floors, affecting many bars, clubs and live music venues that couldn't afford the expensive sprinklers.
Because the Big Dipper doesn't currently have a suppressant system, its maximum capacity tops out at a little over 100 people. But with sprinklers, Hoerner says, that number is likely to more than triple.
"Ultimately we feel like the Big Dipper is Spokane's, it's not ours," Hoerner says. "We saved it from being a dump, but it's going to be Spokane that has to turn it into a world-class music venue."
Right now the venue is open as a private rental facility, but it doesn't yet have permits to serve liquor or food. Since opening the Big Dipper for private events, it's hosted several birthday parties and other events.
With years of experience as a musician, Hoerner is eager to reopen the Dipper as a venue for both local and touring groups. The Spokane native has fond memories of performing in the space while a member of several local bands in the late 1980s. As a member of the Seattle-based emo group Sunny Day Real Estate, Hoerner hopes his music background and connections help boost the Dipper's crowdfunding campaign, a sizable request to the community that comes a little more than a year after a similar request by the owners of the new all-ages music venue The Bartlett.
While music is likely to be the main focus of the Dipper's entertainment offerings, Hoerner is also looking to host poetry readings, open mic nights, karaoke, art shows, game nights and film screenings on a massive floor-to-ceiling projector screen. At this time, he predicts many or most events will be open to all ages.
Look for more about the history of the Big Dipper building in an upcoming issue of the Inlander.