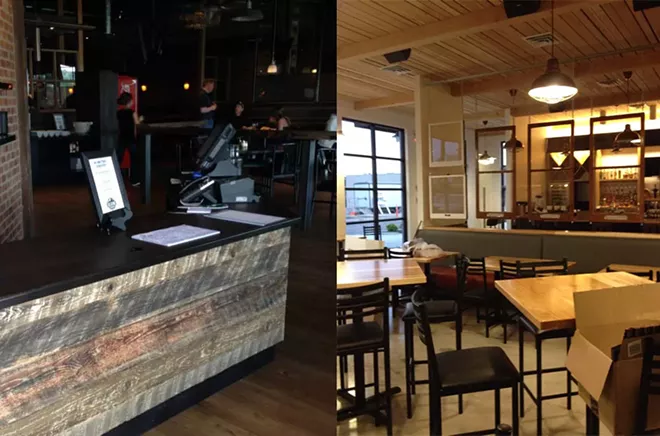 Today is the grand opening for the Wandering Table, the newest restaurant in Kendall Yards and the second owned by chef Adam Hegsted. The tapas-style menu is meant to be shared so everyone can try a variety of flavors — so bring a few friends and pick at least one dish that seems more adventurous.
The restaurant formerly known as Fat Daddy's is totally renovated and now open as Selkirk Pizza & Tap House. They've got a salad bar and a variety of sandwiches and pizzas. See the menu here.
This week's issue has a big feature on Saranac Commons and what's coming soon to the building on Main Avenue, which is scheduled to open in July. Instead of listing everything, you can just read it here.
This week's Entree newsletter has more about Egg It On, which still needs to be described as the brunch place where Hooters used to be at least for a little longer. And there's also the return of the Garlic Mobile truck from the White House Grill. More details on where to find it here.
Manito Park Bench Cafe in Manito Park is opening for the season tomorrow.
We've been wondering where exactly in West Central we'll be able to find Batch Bakeshop's new storefront, and they've announced the address: 2023 W. Dean Ave., which is really in the heart of West Central. This is the darling little building, according to Google Street View:
The building will also be home to Flora, a yogurt company, which is almost halfway to its Kickstarter goal with a week left to go.
New on Kickstarter this week is the return of Spiceologist, which previously ran a successful campaign for the Spiceologist Block. This time it's a campaign for their spice blend rubs in hopes of launching nationwide. Downdraft Brewing Co.'s campaign is also continuing for another month.
Getting in on the brewery-and-food-truck trend is Norma Jean's with a breakfast menu.
Today is the 4th annual bee appreciation day at the Thursday Market on South Perry, so go learn about why bees are important for pretty much everything we eat.
Ramblin Road and Wisconsinburger are both opening new outdoor patios.
Master mixologist Paul Harrington, of Clover, has one of his signature cocktails from his 1990s California days featured in Imbibe magazine as one of 10 "contemporary cocktails on the path to becoming future classics."
Wallace Brewing is starting to bottle their signature beers in six-packs as well as 22-ounce bottles.
Morning Sun Bakery had their outdoor tables and chairs stolen, even though they were locked down. And Something Else Deli is closed today due to copper wire theft outside their location.
WSU announced the name of its new apple: Cosmic Crisp.
Careful with sprouts! Officials issued an E. coli warning yesterday after several people got sick from Idaho-grown sprouts distributed to Pita Pit and Jimmy John's locations in the area, as well as Daanen's Deli in Hayden.
Finally, something in the art-and-drinking category that has nothing to do with painting and wine — Mootsy's is hosting the 2014 Spring PBR Art Contest on June 5, but entries must be submitted by May 26. That's Monday. Rules: You must be at least 21. Art must involve "a likeness of PBR and Mootsy's yellow door in some form or fashion." The winning art will be on display for a month on a billboard in the Spokane market.
Read previous food news here.