In our
fashion issue
earlier this summer, we highlighted a some of Spokane's talented clothing designers who all happen to design for women. So we thought we'd do a follow up for all of you fashion-savvy men — you have not been forgotten.
When you think of men's summer fashion your mind might drift to thoughts of traditional jean shorts, bro-tanks or simple cotton T-shirts. Although some men rock these looks, we want to open your eyes to the variety of summer trends available for men to switch up or enhance your look.
We created our list of six trends based off of what we notice local men are wearing (see our six prominent summer trend picks for women
here
), check 'em out below.
1. Boat shoes
Boat shoes are a summer staple in men's fashion, they are breezy and act as the middle ground shoe between sandals and tennis shoes. Sperry has created a new addition for their men's line you might want to check out. The new line is called
"Cloud Logo."
On the bottom of these shoes "Sperry TopSider" is creatively written and indented in the shoes so that when you walk in the sand your shoes imprint this pattern. The "Cloud Logo" shoes come in flip flops, tennis shoe style, traditional topsiders and new mesh topsiders. You can wear them with shorts, pants or even swimsuits.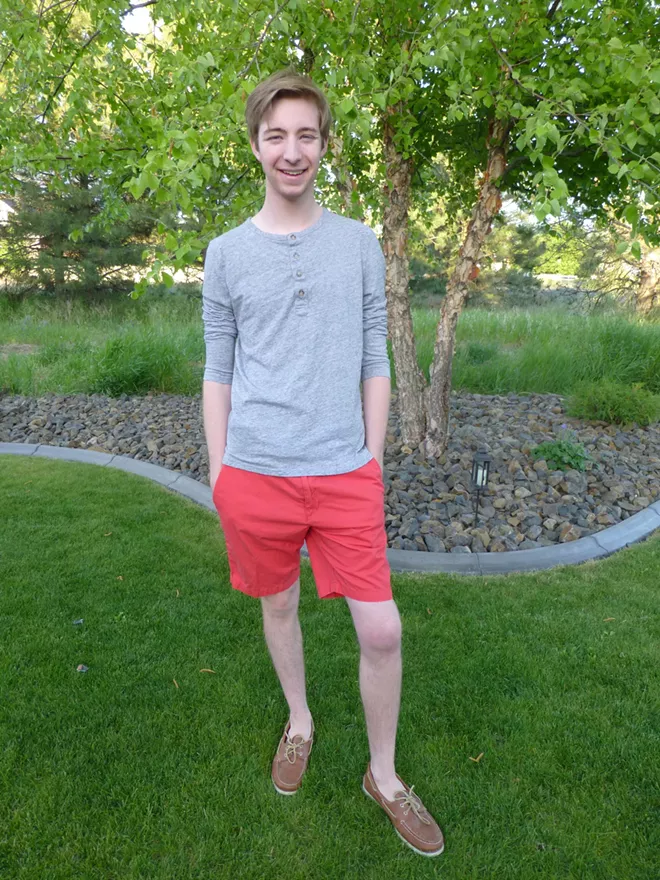 2. Colored laces
Colored shoelaces might sound a bit crazy, but you should give them a try. Stores are starting to sell
Oxford style shoes
with different colored laces. But if you want to ease your way into this trend, try switching out the laces on your favorite pair of shoes for a colored pair that matches or even clashes with your outfit to create a subtle statement.
3. Statement sunglasses
Sunglasses are an easy way to make an impact on your look. A few contemporary styles are the aviator and Ray-Ban looks. Though these styles have remained classic for years, men are revamping the look this summer by purchasing these traditional frames with
colored lenses
. Whether they are light blue, forest green or even mirrored, this simple switch adds a fresh perspective to these popular styles. These can be found at most stores for reasonable prices and worn with any look from swimsuits and flipflops to dress suits.
4. Colored pants and shorts
Solid colored pants and shorts are making a huge appearance this summer. Whether you choose red, blue, green or even salmon, these solid colored wardrobe pieces provide an easy way to bring personality to any outfit.
5. Summer suits
"Summer suits" does not necessarily mean you should wear traditional suits during the summer. It means you should break up the
suit pieces
you already own and wear them with outfits you normally wouldn't. For example, try wearing your suit jacket with a light dress shirt and a pair of shorts and boat shoes. Or sport a pair of linen suit pants with dress shoes and a dress shirt. Summer is all about feeling light and breezy, and this look achieves that.
6. Tiffany blue colored clothing and accents
Tiffany blue
is trending in both men and women's fashion. It is the color of summer because it is bright, clean and reminds people of the ocean. Clothing pieces ranging from tennis shoes to T-shirts are starting to incorporate Tiffany blue accents. One way you can incorporate this accent color or others into your wardrobe is by purchasing T-shirts with pockets on the front. Most pockets incorporate patterns or accent colors.
Although there is not the same availability for men's fashion to be found locally at boutiques or
fashion trucks
, this does not mean that men's fashion is underrated.
As you continue to soak up the sunshine of summer, keep these trends in mind and remember to re-invigorate your personal style through subtle changes. As designer Ralph Lauren once said, "Fashion is not necessarily about labels. It's not about brands. It's about something else that comes from within you."