Regret is real, and it's not only reserved for that tattoo you got on a whim last weekend. The recent stormy weather that quickly gave way to the present unbearable heat has reminded us that the sun won't stick around forever. And frankly, we don't want to let the impending autumn hit you with the regretful realization you didn't take advantage of the summer months' abundance of activities. Now is the time to get out there and enjoy every sunny minute, and we've got a few ideas to keep in mind. Remember that ridiculously fat issue we put out back in June? The
Summer Guide
has already directed many readers to hiking trails, food trucks, brewery tours and more over the past couple months. But there is still so much more that we wouldn't want you to miss…
1) Take
me
yourself
out to the ball game. If you haven't hit the grandstands yet this summer, make sure you get your ticket for
a Spokane Indians baseball game
. There is a quintessential summer ambiance established when you can smell hot dogs, beer, and sunscreen all at once. An eight-game streak is happening right now, with home games every day through this Sunday, Aug. 3, so check the
schedule
out and pick your game.
2) Upon moving to the area about three years ago, I spent one of my first weekends exploring
the Route of the Hiawatha Bike Trail
. Its path is a dirt-covered, abandoned railroad near Wallace, Idaho, winds through a gorgeous stretch of forested hills and tunnels. It's downhill for the majority of the ride, which allows riders to really enjoy the scenery. If you're feeling ambitious and/or slightly insane, turn around and pedal your way back up those 15 miles for a leg-burning but rewarding workout (don't worry, there's a shuttle back to the car, too).
3) After a long, hot summer day, there's nothing quite like sitting down, kicking back and listening to some tunes.
Outdoor concerts
are the perfect activity when the sun sets late and the heat of the day finally cools off. Neighborhoods all across the region are hosting
concert or film series
this season. The upcoming
Festival at Sandpoint
(it
kicks off next Thursday
, is always an outdoor music highlight of the summer. If you've yet to catch a Saturday night film at the
South Perry Summer Theatre
, August's showings include
Raiders of the Lost Ark
(8/1),
The Hobbit
(8/9), and
Frozen
(8/23).
4) Grab a table at one of this year's
new sidewalk patios downtown
. Recently-granted permits to several local establishments extend seating outside in a development that should
benefit the overall culture of downtown
. Sip on a cold drink at the Blind Buck's stylishly small patio, or post up right out front of the mall at River Park Square with an iced coffee or ice cream.
5)
Camping via canoe
combines two of our all-time favorite things — boating on the water and sleeping under the stars. Plan a site on the lake where you can paddle to the shore to set up camp, and then hop in the water with your canoe or kayak. It's adventurous and refreshing, and
a perfect excursion for a night out in nature
.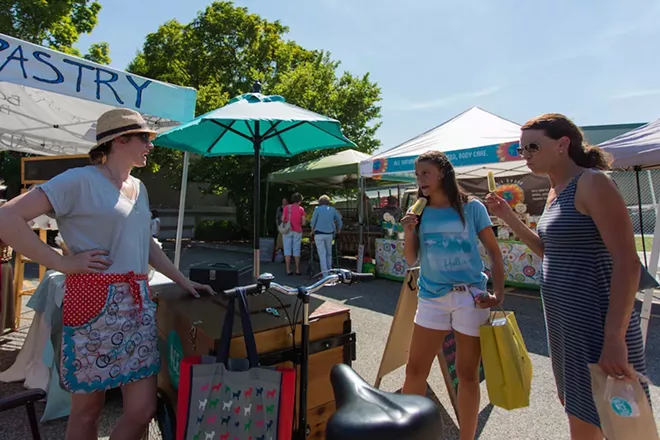 6)
Treat yourself with something cool and refreshing
, like a
cold brew coffee from Indaba
or a fruity flavor from
Fannie's Ice Pops
. These treats can quench your thirst and keep you cool when the weather's hot, but their appeal sadly decreases as the temperatures do.
7)
Two words: Cannon. Ball.
No, you are never too old for this. And you shouldn't let a summer pass by without practicing your careful form and ability to soak everyone around you with an epic splash. Hit one of
the local aquatic centers
for a dip in the afternoon with the whole family. If you want to avoid the chlorine, take to one of the many local lakes. Tubbs Hill on Lake Coeur d'Alene is a perfect spot for your annual cannon balling to take place.
8) Though it was just a week ago we experienced that havoc-wreaking wind storm, temperatures have once again spiked back into the high 90s, causing us to perspire like crazy all over again.
Three of our favorite air-conditioned activities
? The
MAC's 100 Stories exhibition
, the
IMAX in Riverfront Park
, and
Mobius Children's Museum and Science Center
.
9) Go
explore our beautiful state parks
on one of the upcoming
Free State Park Access Days
. Between Riverside State Park and Mt. Spokane State Park, all outdoor enthusiasts can enjoy biking, hiking, rafting,
outdoor photography
and jogging. We appreciate these beautiful parks all year long, but we really love when we can roam the area for free. Also keep an eye on our ongoing, seasonal
"Outing"
series for reviews and suggestions on specific outdoor adventures.
10) If there is one regret that we feel certain you shouldn't experience, it's missing out on the fresh and
local produce from our region's bountiful farmers markets
. These markets are hosted in communities across the Inland Northwest, and are a perfect opportunity to appreciate our region's agriculture while biting into a delicious piece of fruit and other fresh produce. A personal favorite is the
South Perry Farmers Market
on Thursday evenings, which includes artisan crafts and food carts alongside the produce.